What's The Best Recommendation For A Budget Trip?
1. How to find the best hotels in Vietnam?
Scanning through review first
Vietnam has a lot of high-rated hotels and charismatic places with relatively cheap prices. If you are on a budget trip, filtering out the 8-9 range might help you cut down on some expenses for accommodation. It is recommended that you look at room standards that you prioritize such as cleanliness, facilities like air-conditioner, Wifi, etc. then you can easily eliminate inappropriate options.
The price ranges 
In Vietnam and some Southeast Asia countries, you can be amazed by how far your US currency and other foreign currencies can go for affordable yet well-equipped accommodation. Here in Vietnam for example, you can spend only $15 and $20 per night depending on the accommodation categories that you would like to be catered. Some hotels/homestays will offer price per night while some others calculate the room rate so you should verify when you send them inquiries or book their rooms.
The location
The convenience of your trip will pretty much depend on the location of your stay. It's obvious that accommodations that are close to the center costs higher than far-away locations. If you manage to minimize the expense, you can choose places located several kilometers from key tourist hotspots or city/town centers.
Do note that in Vietnam, there are many copycat establishments so it's better to write down the exact locations and give them to your driver.
2. Types of Budget Accommodation
Hostels
Hanoi Era Hotel
A bed in a dormitory can be the cheapest form of accommodation in Vietnam where you have your own bedroom and share facilities with other people. If you desire privacy, you can search for fan rooms in guesthouses or hotels and you might not have hot water with such a price in the warmer weather. Adding more facilities can add up to double on price.
Homestays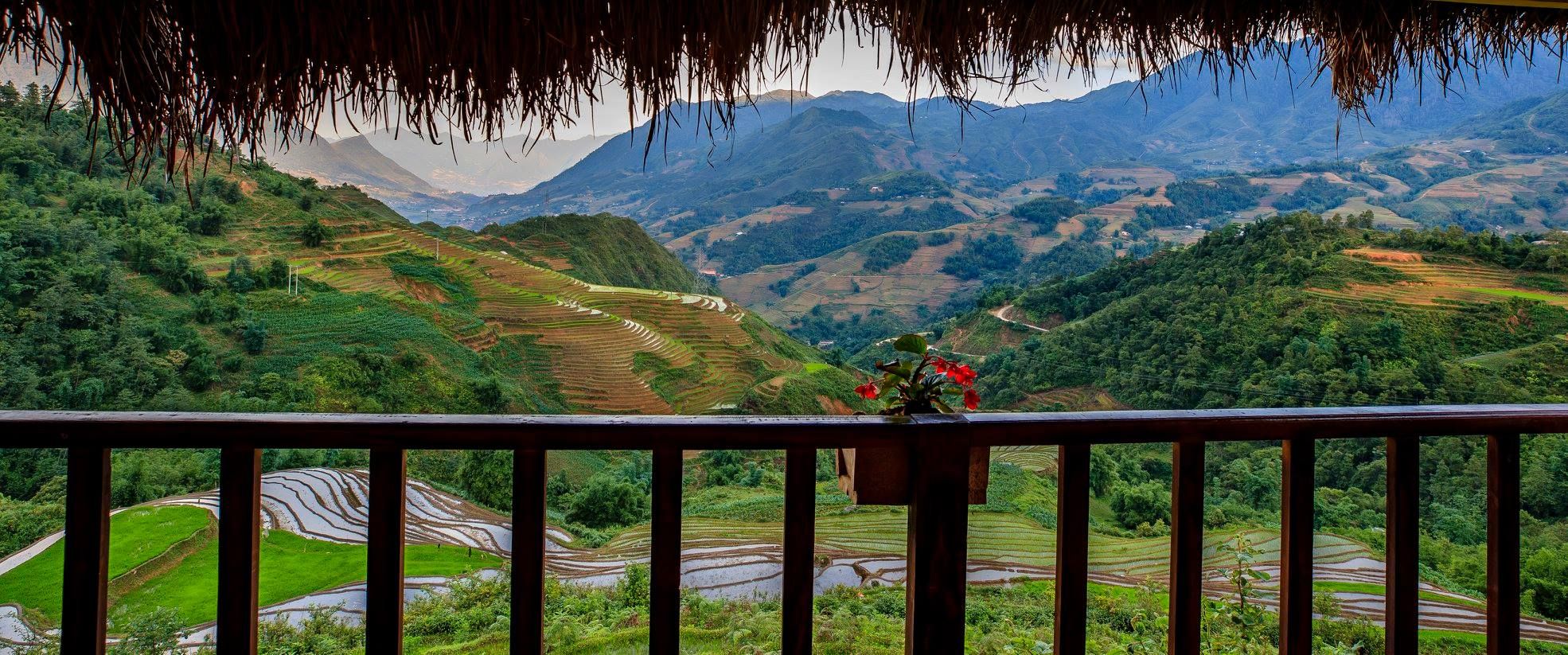 Sapa Eco Homestay
You can enjoy a sound sleep in a bed in a shared room, including breakfast. You should stay in an authentic homestay at least once in your lifetime when traveling to Vietnam. Especially in remote areas like Sapa, Phong Nha, or Mai Chau, finding a homestay is fairly simple. You will sleep on a mattress on the floor alongside other like-minded travelers. The bathroom and kitchen are often outdoors too, the family owners often cook on portable electric stovetop and charcoal fire.
Mid-range Hotels
Le Pavilion Boutique Hotel Hoi An
Rooms at this range will be comfortable, reasonably spacious, and well furnished with decent furniture, air-conditioner, hot water, fridge, infinity swimming pool, and spectacular view. Even if you are on a tight budget, you can still manage to experience decent services in slightly better hotels for several nights.
Village accommodation and camping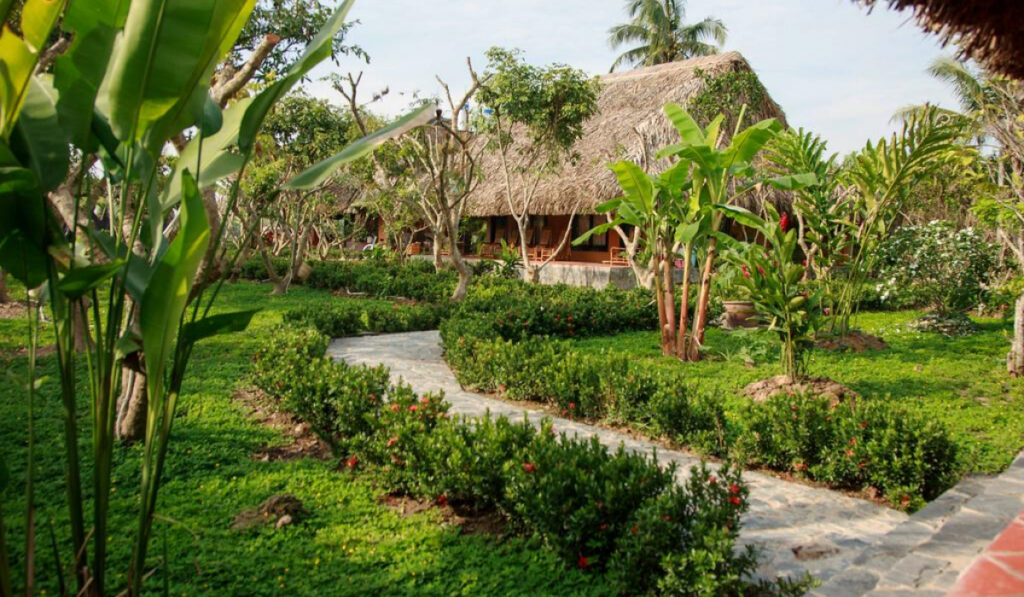 Mekong Ecolodge
Tourism in minority communities has become more feasible, so staying in community houses or stilt houses and immersing yourself in local activities for delving into cultures should also be taken into consideration. For example, in northern parts of Vietnam like Mai Chau or Sapa you can easily find comfortable accommodations with decent prices. You might have a mattress on the floor in their communal house and accommodated with a mosquito net and blanket as the weather might get colder at night; however, it's advisable to prepare sleeping bags, mosquitoes repellents, or net to have a safe journey. On some cruise or boat trips in the Mekong Delta, you can choose to stay with owners of fruit orchards to get a panoramic view of rural life. Notably, some guesthouses in Nha Trang or Mui Ne offer tourists tents for just a few dollars per night when they are running out of room. Similarly, some tour companies provide camping options for a visit to Halong Bay.
Beach Resorts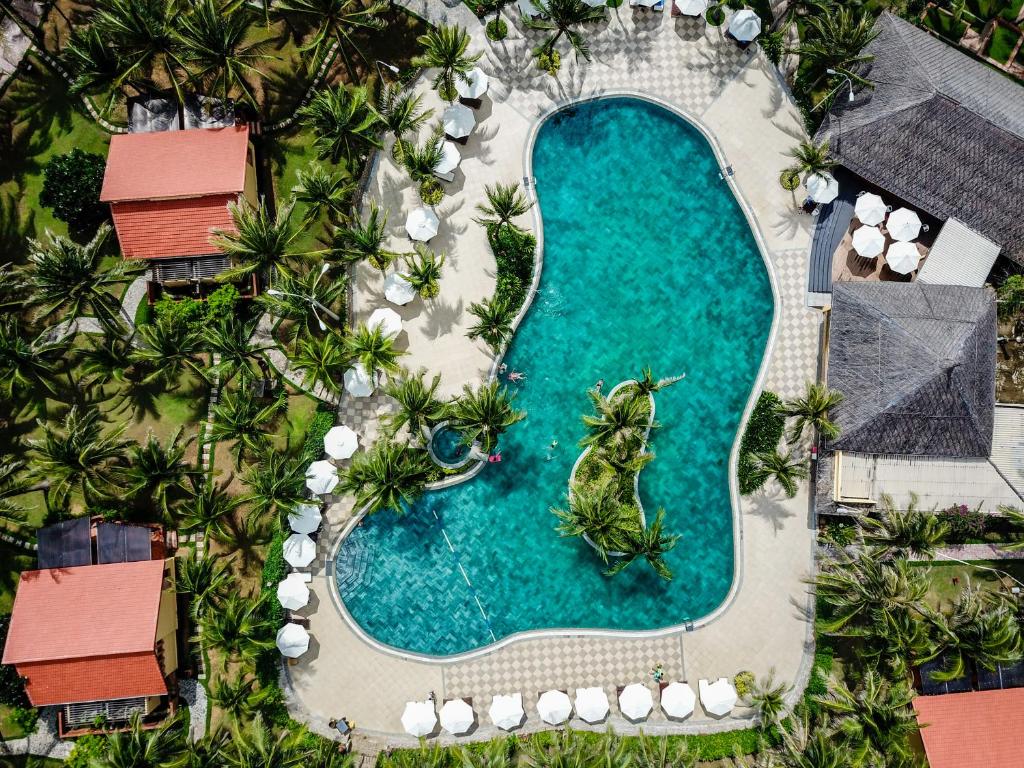 Pandanus Resort
With a long coastline, Vietnam is paradise for beaches escape. Sandy stretches of shoreline in Nha Trang and Mui Ne, majestic turquoise beach in Phu Quoc, and Con Dao attracts thousands of tourists annually especially in peak season. As a result, there is surging demand for accommodations in those tourist attraction spots, though you can still find many beach resorts in Vietnam ranging from rough budget huts on the beach to 5-star resorts, etc.