Top Rustic Resort For Getting Back To Mother Nature
Staying connected with nature while charging up the energy is the notable focus of staying here. Those eco-friendly resorts will bring you the best moments ever.
1, Mai Chau Hideaway Resort
Mai Chau Hideaway Resort (Mai Chau Hideaway) is the only ecological resort with a stunning view of Hoa Binh lake. A highlighted and unique retreat model, Mai Chau Hideaway Resort is always a top favorite destination for those who are nature-lovers and crave a chance to get away from the city bustle. Get yourself immersed in the tranquility and relaxation brought to you by the natural carpet of verdant lush forests, mountains, and lakes surroundings. Conclusion five eco-stilts that stand out as the unique cultural features of the northern mountainous ethnic communities of Viet Nam such as Muong, Thai, Dao, and Hmong. The open-air splendid swimming pool is decorated with natural stone which wears a glamorous outfit at night thanks to decorating lights. In addition, the resort also offers many relaxing and vibrant activities to offer to tourists such as yoga, kayaking in Hoa Binh lake bed, participating in cooking class, or relaxing at the Spa…
2, Ninh Binh Emeralda Resort and Spa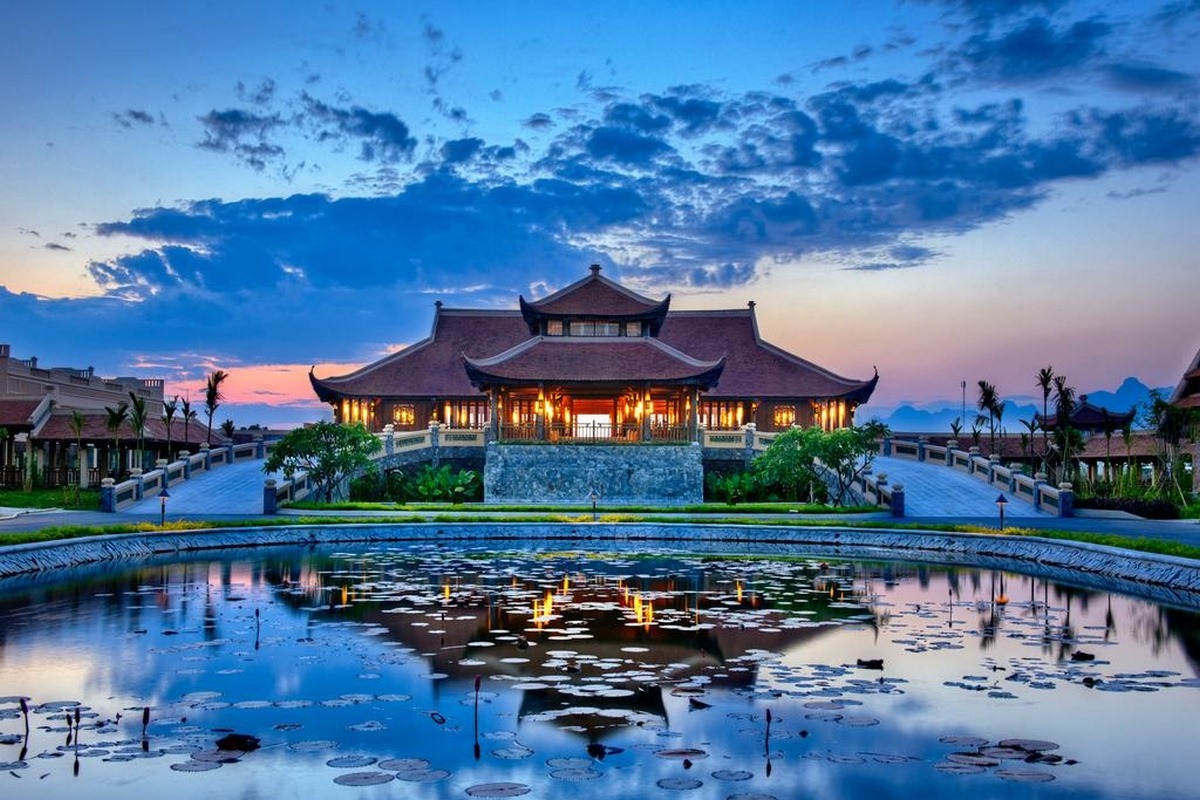 Luxury Ninh Binh Emeralda Resort is titled hidden in the limestone mountains of Ninh Binh. Varied in room types such as Deluxe rooms, Superior rooms, etc. full-equipped with excellent services committedly to bring satisfaction to visitors coming here. More importantly, you can enjoy the poetic natural scenery in the garden view from your room to help you take off the pressures of work and life. You can also experience wonderful services here like a spa, and an outdoor swimming pool…to help you get relaxed.
3, Pilgrimage Village Hue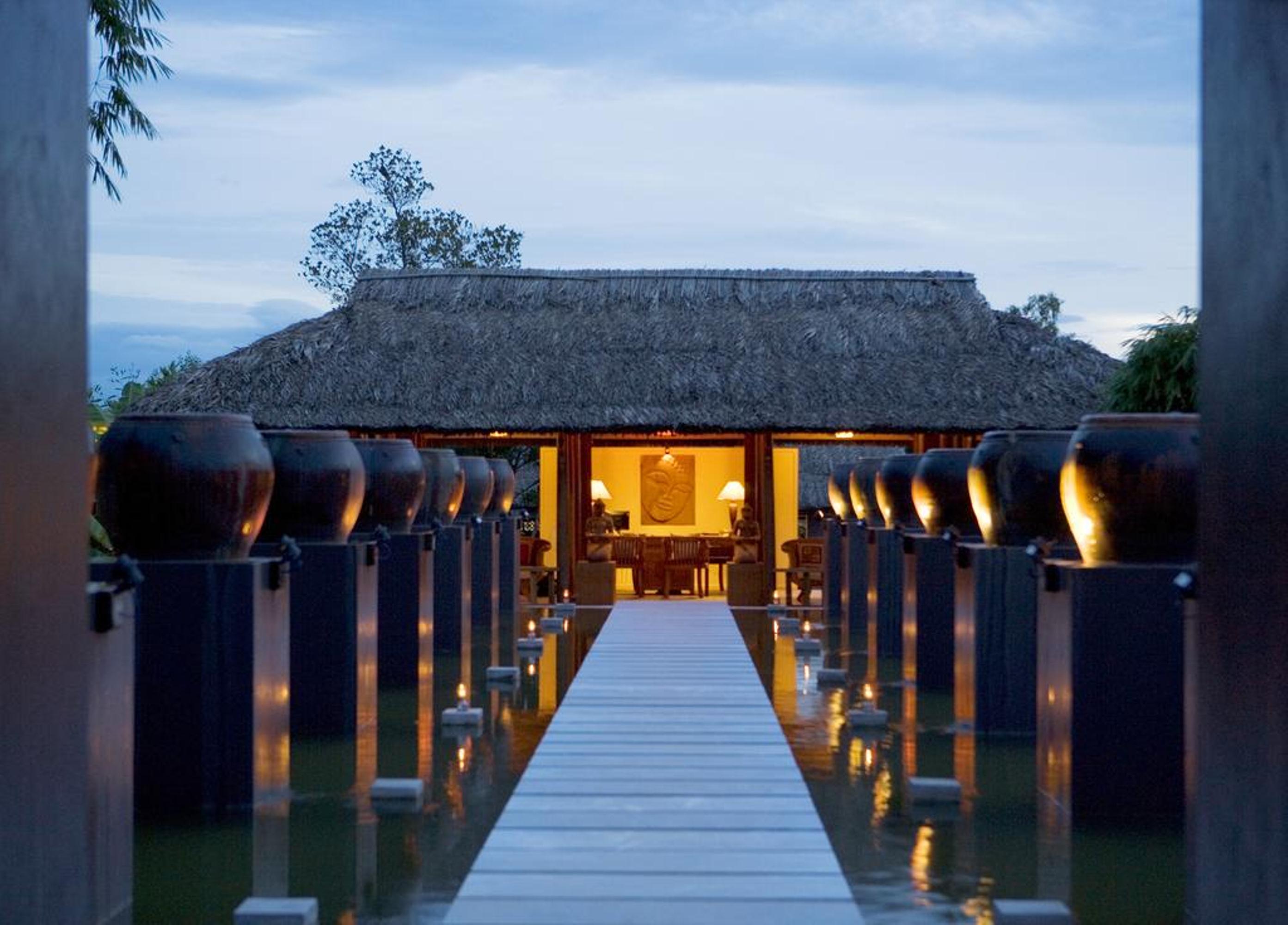 An eco-resort located in a secluded area of Thua Thien Hue. Enjoy a close touch to nature in beautiful bungalows, huts, and villas covered by natural green forests. Authentic feeling and delightful experience in extensive spa treatments, swimming pools and relish exquisite dishes embracing the specialties of romantic Hue.
4, Amanoi Resort Ninh Thuan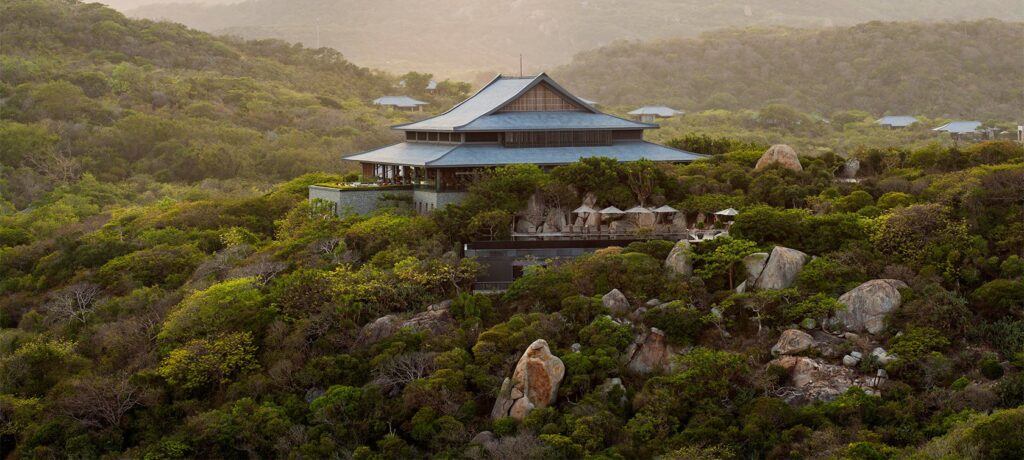 Located in Nui Chua National Park, Amanoi Ninh Thuan has beautiful views over the lake and sea. Aimed at creating relaxed and unforgettable moments with a variety of sports activities designed to fit all tourists of any age. Simply, get an early morning with fresh yoga in the heart of nature to charge up yourself, more dynamic activities on the sea such as kayaking and diving, or even more challenging activities such as trekking trails to conquer Nui Chua (1000-metre Chua Mountain).
5, Mango Bay Resort Phu Quoc
The Mango Bay is a sustainable resort that is approximately ten hectares in areas. If you are looking for a completely perfect natural retreat with no air conditioning, and no TV, pay full attention to your beloved people. Every beautiful room and villa is created for maximum enjoyment. Varied in beverage choices and delicious seafood and local dishes in the restaurant.