Phuket Island
Phuket, known as the 'Pearl of the Andaman,' is endowed with arcs of powder sand beaches, forested hills, and the busy city of Phuket Town, which has an array of architectural styles, including a concentration of Sino-Portuguese structures. Many small offshore islands and coral beds offer world-class diving opportunities, and the Andaman Sea is also a popular worldwide yachting and sailing destination, with luxury marinas on Phuket accommodating boats of all kinds.
1. Transportation:
1.2. How to get there?
Phuket International Airport is Thailand's second busiest airport, after Bangkok's Suvarnabhumi Airport. With regular flights to Bangkok, the airport is well-connected. There are also direct flights to India, Australia, Singapore, and the United States, among other destinations.
Buses from Bangkok's Southern Bus Terminal to Phuket, on the other hand, are the most dependable and convenient mode of transportation between the two cities, taking up to 13 hours to reach Phuket. Buses, both air-conditioned and non-air-conditioned, are available at various costs.
1.2. Ways to get around the city:
Songthaew
Songthaews are very common across Thailand. They are tiny vehicles or pickup trucks that have been adapted to transport passengers, with two benches in the bed and a roof to provide shade.  There are no predetermined stops; simply plan your route, stand by the side of the road, and wave when a vehicle approaches. As with buses, there are no songtheaws that go around the island's perimeter and connect the beach resorts; visitors must connect through Phuket Town.
Tuk Tuks
Phuket's tuk tuks are unlike those found elsewhere in Thailand. They feature four wheels rather than three and resemble a mini songthaew rather than a tuk tuk. Nonetheless, because tourists in Thailand want and expect tuk tuks, locals give them what they want and call them tuk tuks! Since tuk tuks don't have meters, you must negotiate a price before boarding or you may up up spending far more than you should.
Motorbike Taxis
Phuket, like the rest of Thailand, has a plethora of motorbike taxis. They can be economical for short distances, especially for people who travel on their own. A motorbike taxi can be identified by the driver wearing a colored vest. Motorbike taxis usually wait in groups at major intersections, near beaches, and near popular tourist destinations. If they don't have a passenger on the back, you can also wave one down. Always wear a helmet and agree on a price before embarking on your ride. As with taxis, it's a good idea to collect a driver's contact information so you may utilize them again throughout your stay.
Scooter rental
Scooters may be rented easily in Phuket's Patong district. These rentals are relatively affordable, with prices varying based on the type of car. A 100cc Honda scooter, for example, can be rented for 150 to 200 THB per day. Remember to bargain for reductions and to wear a helmet to avoid being fined 500 THB. It's also a good idea to thoroughly inspect the bike before renting it to avoid being penalized for pre-existing damage.
Boat
You can go island hopping by taking a longtail boat from one island to another. While you can haggle for a lower fee, the hourly rate should be around 500 THB or 1,800 THB for the day. They aren't normally supplied with lifejackets, so be cautious if you're with children or those who can't swim.
2. Best times to visit:
With a tropical environment, the weather in Phuket can be warm, chilly, or wet. It never gets very cold. The peak tourist season runs from November to February, when the weather is pleasant and dry, after which it remains hot until May. The monsoon season begins in mid-May and lasts until October.
PATONG BEACH
Phuket's longest and most picturesque beach was once its most gorgeous, until development and tourism converted it into a busy center of activity rather than a sanctuary from the world. Still, Patong is fantastic for people watching, and part of the joy of Thailand is that it is a land of contrasts in addition to being a land of smiles.
You won't be able to find a peaceful corner to read and contemplate life on Patong, but there will be plenty of shopping and activities to keep you entertained.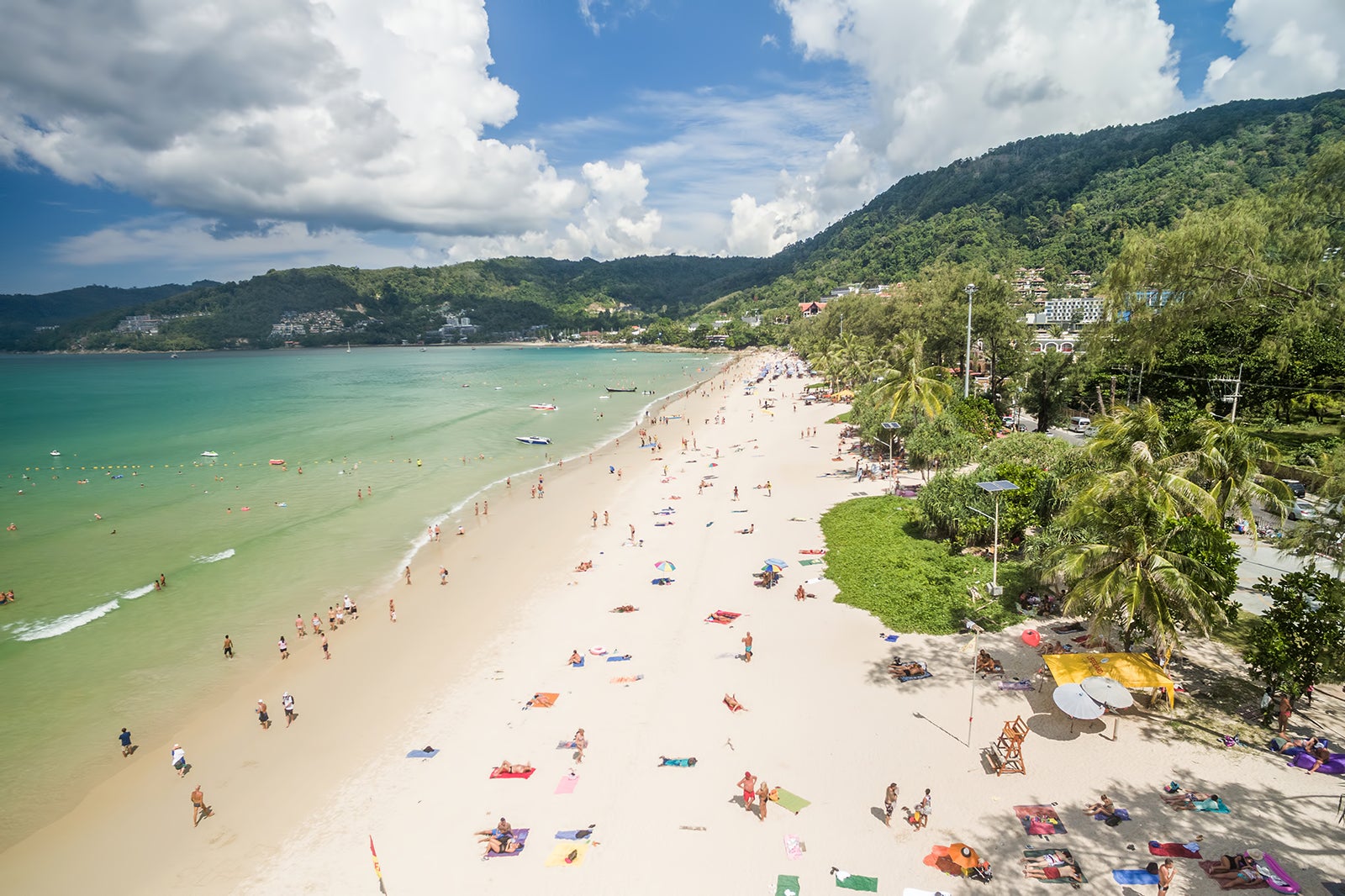 KATA BEACH
Kata Beach is a picturesque, curving bay fringed with casuarinas and palms, sheltered by verdant highlands on either end. Although it is still popular, it is more calm and has fewer hawkers than Patong Beach. A little islet stands slightly offshore, and the beach itself is wide, with soft, white sand and good snorkeling at either end.
KARON BEACH 
Karon Beach is a 3.5-kilometer-long strip of squeaky, golden sand and blue sea that draws many couples and families. It is less developed than famed Patong Beach, which is around 15 minutes away. When the weather is quiet, it's a great area for a swim, but when the winds pick up, large waves pound the wide-open beach here, so swim with caution if you go.
RAWAI VILLAGE
To see a more real side of Phuket, visit this small settlement on the island's east coast and observe the Moken, a band of "sea nomads." They have ancestors from the Andaman and Nicobar Islands and have stayed steadfast in their beliefs and practices. Some choose to live by the sea, while others prefer a semi-nomadic existence on land. The men of the community primarily work as fishermen and, on occasion, as sea trip guides. Rawai has a little fishing harbor and a sliver of sand lined with coconut trees, swamp oaks, and fishing boats (Nai Harn Beach is one of the best in the area.) Boats can be rented here to sail to offshore islands. The area is also known for its seafood markets, where you can purchase the catch of the day and have it prepared to order at one of the local restaurants.
Suggested Itineraries
No tours match your criteria