Phnom Penh
PPhnom Penh is a fast-paced, expanding metropolis. While it is Cambodia's largest city, it is actually smaller and more laid-back than other Asian cities. The capital of Cambodia is a city that straddles the divide between ancient civilizations and fast-paced, dynamic modernity. Phnom Penh's original title, "Pearl of Asia," may have faded from memory, but the city's rich past extends far beyond national recognition. It is still a worldwide recognized heritage in Cambodia's heart. The city has grown tremendously in recent decades, becoming one of Southeast Asia's most lively and youthful cities. The city's buzzing center is devoid of the burdens of war and resurrection. Exquisite Khmer-style temples, pagodas, monuments, and cultural buildings are strewn over the French colonial houses.
1. Transportation:
1.2. How to get there?
Phnom Penh has its own international Airport which serves many domestic as well as international flights in a day. Travelers often fly to Phnom Penh from Siem Reap or take a bus trip (for approximately 6 hours 30 minutes). For people who enjoy the scenery on the road also prefer taking bus from Ho Chi Minh City (Vietnam) to cross the border and travel multi-destinations.
1.2. Ways to get around the city:
Remok
Remok is a passenger carriage towed by a motorcycle, comparable to the tuk-tuk of Thailand. Remok, the most prevalent mode of tourist transportation, is ideal for small parties because it can carry 4 (or more) passengers at a time.
Fares are negotiable and may differ significantly from one consumer to the next. They're charged primarily based on duration and distance. Trips inside the city center of Phnom Penh are often inexpensive, but expect to pay more for additional places such as Phnom Penh International Airport and the Choeung Ek Killing Fields Memorial.
Motorcycle Taxis
Motorcycle taxis are ideal for short excursions within Phnom Penh, and those driven by English-speaking locals may be found primarily in tourist-friendly places like Sisowath Quay and Independence Monument. If you're traveling late at night, expect to pay more.
Moto services are offered at daily prices if you want to explore outside of the city center. If you're riding a motorcycle in Cambodia, even as a passenger, you should wear a helmet, which your driver should provide. Tourists, in particular, are frequently targeted by traffic cops for riding without a helmet.
Taxis
City cabs can be found along Sisowath Quay and outside major hotels across Phnom Penh, but they can also be easily booked over the phone or through travel companies. Taxis are the quickest and safest mode of transportation in Phnom Penh, and many taxi firms provide services 24 hours a day, seven days a week. Taxi drivers in the city are mainly English-speaking locals who are well-versed in Phnom Penh.
Cyclo
Traveling by cyclo is a great way to see the Royal Palace, Silver Pagoda, National Museum of Cambodia, and Wat Ounalom, all of which are located in the Phnom Penh City Center. While you can find cyclos parked near major hotels, restaurants, and sites, you can hire one from The Cyclo Centre on Street 158 for a full day of sightseeing. The Cycle Centre is a local NGO providing support for the cycle drivers who are some of the poorest members of Cambodian society.
2. Best times to visit:
Expect heavy humidity and heat whenever you visit. Even though, the "cool season," which runs from November to February, is traditionally the most popular time to visit, with temperatures often reaching the 27°C. However, because the temples and marketplaces may be busier during peak season, it may be preferable to visit in March or April.
NATIONAL MUSEUM
The National Museum, Cambodia's main cultural history museum, holds the world's greatest collection of Khmer art.
The museum is rusty red, like a red agate placed on the earth, and was built in 1917 by the French in a Khmer style around a courtyard. There are about 5,000 artefacts on show, including Angkorian era statues, lingas, and other relics, the most notable of which is the original of the Leper King, whose duplicate is on display in Siem Reap's Terrace of the Leper King, where it was initially unearthed. There are other pieces from subsequent periods on display, as well as an unique exhibition of post-Angkorian Buddha sculptures. Here, visitors may relax and reflect on one of Asia's most diverse cultures and the museum is open every day from 8:00 a.m. to 5:00 p.m.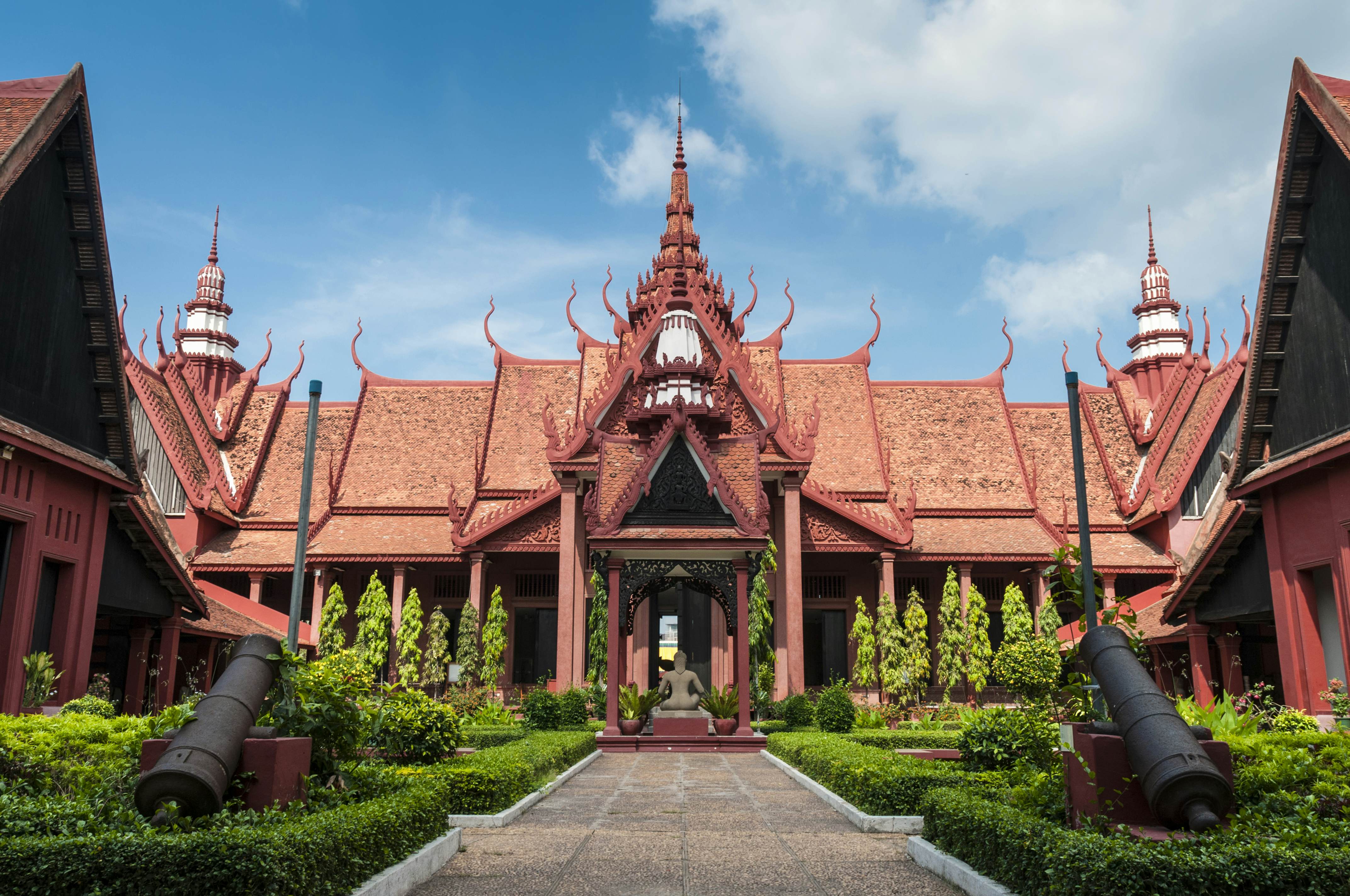 THE ROYAL PALACE
The Royal Palace is a Khmer-style Throne Hall that was constructed in 1866 to serve Cambodia's King and his family. It also functioned as a place for court events and rites, as well as hosting foreign guests. The palace is, above all, a symbol of the Kingdom. The Royal Treasury and the Villa of Napoleon III, built in Egypt in 1866 for the completion of the Suez Canal and later given to the Cambodian king as a gift, are located south of the Throne Hall. The establishment of the Royal Palace in Phnom Penh is a relatively recent event in Khmer and Cambodian history. From AD802 until the early 15th century, the seat of Khmer sovereignty in the region was in Angkor, north of the Great Tonle Sap Lake. After leaving Angkor in the 15th century, the Khmer court first established in Phnom Penh in 1434, where it lingered for several decades, before moving on to Basan, Lovek, and finally Oudong in 1494.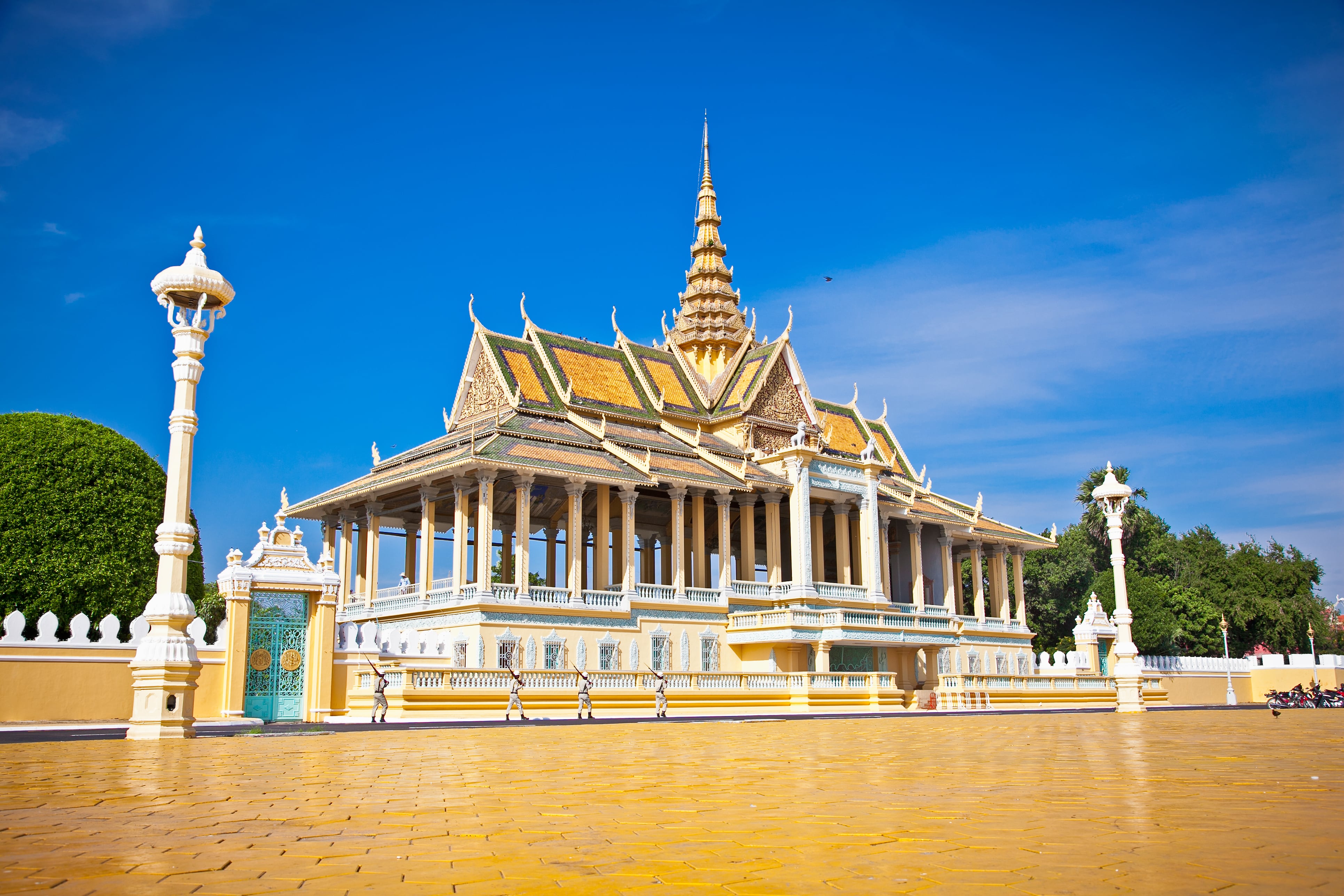 PHSAR THMEI MARKET
The Khmer name for this market is Phsar Thmey which means 'New Market,' is a key landmark in the Cambodian capital. Whether you're a shopper who wants to test your haggling abilities, a visitor who wants to be a part of the busy crowd, or simply want to see the city's great architectural wonders, the Central Market is a must-see during your visit to the city. Central Market, designed by Desbois and built in the Art Deco style, was the largest of its kind in Asia when it opened in 1937, during the French colonial period. Central Market was renovated with financing from the French Development Agency in order to preserve its distinctive building before reopening to the public in 2011.
Central Market is designed in the style of traditional Southeast Asian architecture, with a massive yellow-painted central dome and four wings leading to massive passageways brimming with shopping stalls. In reality, the main advantage of this bustling market is its well-protected, well-ventilated construction, which allows both sellers and buyers to conduct business without being disturbed by monsoon rain or scorching heat.
TOUL SENG MUSEUM
The Khmer Rouge dictatorship virtually emptied Phnom Penh in the 1970s. This striking exhibit recalls the millions of innocent victims of the "Killing Fields" and is housed in what was once a prison camp. This thought-provoking museum requires a strong stomach, but it is not to be missed.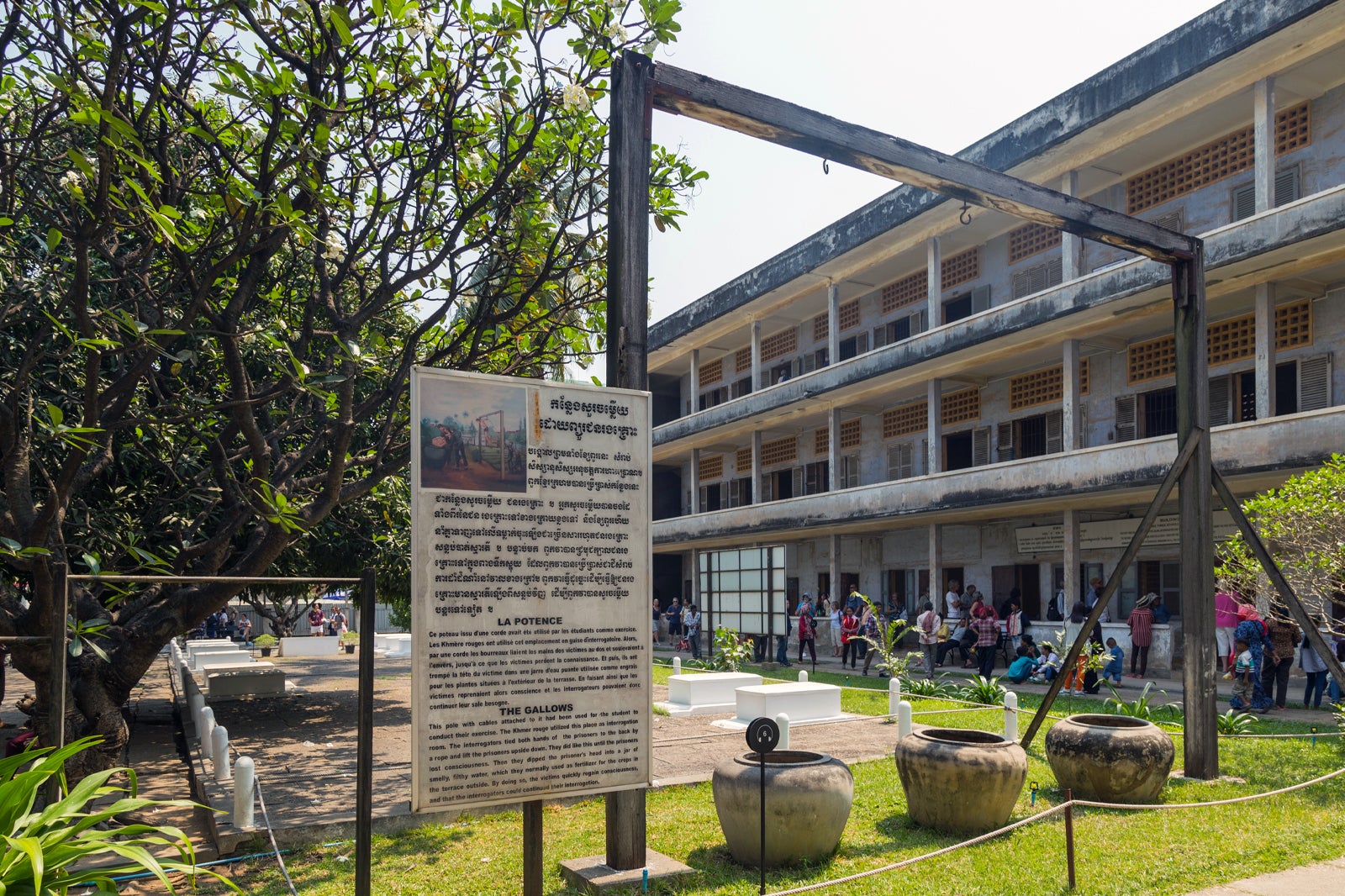 WAT PHOM
Wat Phnom is the only 'hill' in town, perched atop a 27-meter-high tree-covered mound. The first pagoda on this site, according to legend, was built in 1372 to house four Buddha images deposited here by the Mekong River and discovered by Lady Penh. Phnom Penh, or 'hill of Penh,' is the city's name.
Wat Phnom's shrines are a clever synthesis of various intellectual and religious traditions, ranging from Hindu to Confucian. Confucius' intricate drawings can be found in Preah Chau's shrine. Take a trip to the arts and crafts center to see some of the local handicrafts, but keep a look out for obnoxious vendors and beggars along the route. Beyond spiritual amplitude, Phnom Penh's greatest attraction is brimming with new vigor.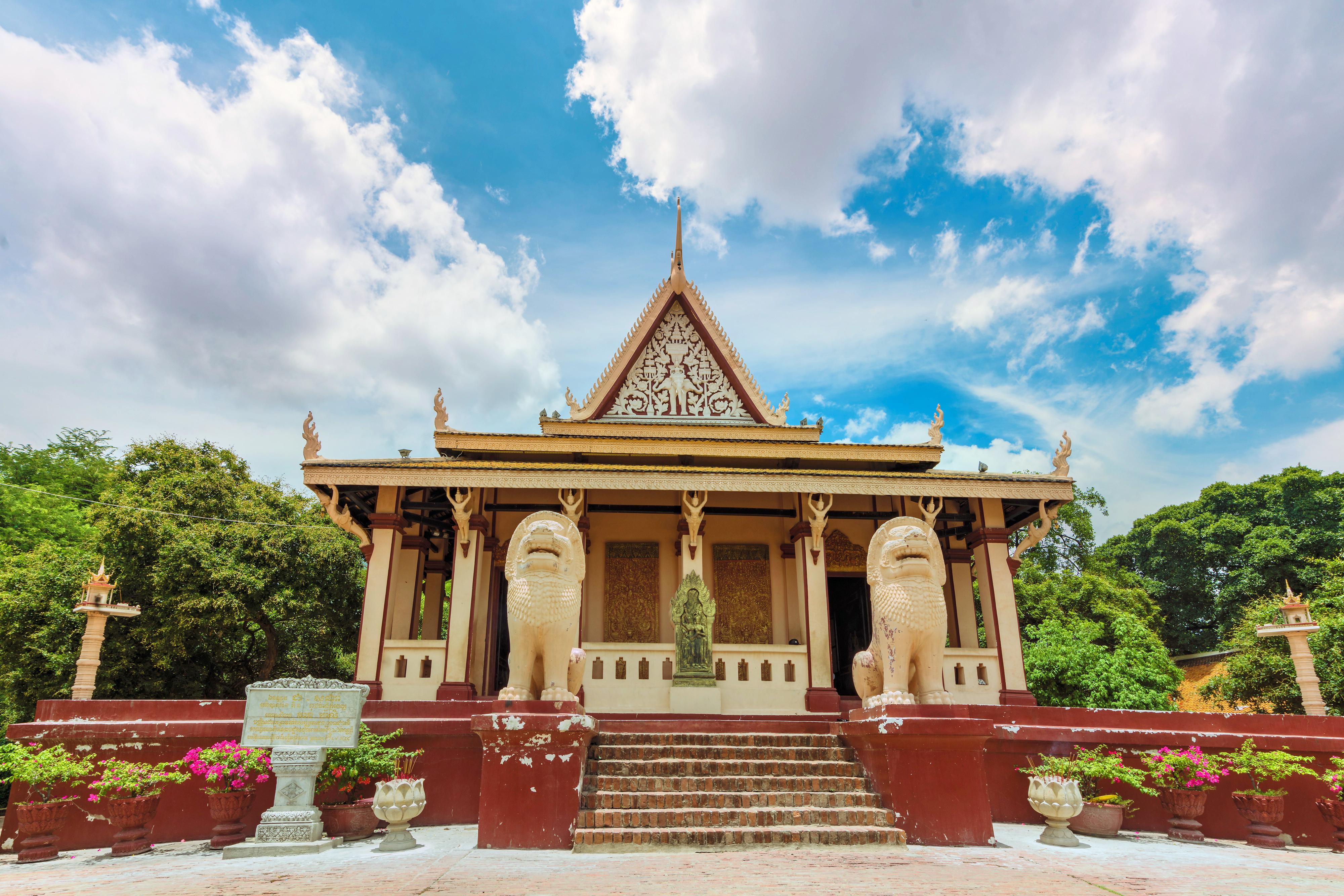 Suggested Itineraries
Let's exert your sweat during a…