Mekong Delta
The Mekong River is the world's tenth-longest river and Asia's seventh-longest. The rich Mekong Delta is formed when the River Mekong splits into nine rivers in southern Vietnam. Fisheries thrive during the annual flood, and rice fields are quickly dug when the waters recede, allowing daily life to flow with the ever-changing waters.
Sometimes known as "Vietnam's Rice Bowl," the Mekong Delta spans hundreds of square kilometres of flat ground and is home to innumerable rice farms and tributaries. An overnight trip in the Mekong Delta is well worth it, as the sensation of waking up to find floating markets and villages all around you is unforgettable. Vendors trade their fresh goods in the towns, and a constant flow of river traffic passes through on a daily basis. If you take a detour into a smaller creek, you'll find orchards, Buddhist temples, and family homes clinging to the riverbanks.
In addition, the Mekong basin is home to some of the world's most diverse ecosystems. More than 1200 fish species have been recognized, with up to 1700 species possible. Fishing is a vital source of protein in the local diet and an important part of the area's economic activity. According to estimates, 120 fish species are sold commercially, however the majority of the fishery is focused on 10–20 species.
1. Transportation:
1.2. How to get there?
The Mekong Delta is frequently visited by bus, which departs from Ho Chi Minh City and will take approximately 3 o 4 hours. You can also cut a fair bit of travel time by taking a flight to or from the delta, Can Tho International Airport locates at the heart of the region, easy to connect with many areas of the delta itself.
1.2. Ways to get around the city:
Boat/ Sampan
The Mekong Delta is best visited by traditional boats because of its huge maze of meandering rivers. You may feel as if you're stepping back in time or being transported to another world as you glide down the region's small and meandering canals and rivers. This pleasant and tranquil region, along with beautiful landscape and welcoming residents, will leave you speechless. Boarding local boats will take you deeper into the delta, which is surrounded by mangrove forests, palm trees, and lush fruit farms — a beautiful sight to behold.
Bus
It is easy to get a bus ride around the Mekong Delta, as it is in many other parts of Vietnam. There are numerous bus lines that run across the delta, beginning in Can Tho, which is an important stop for any tour in the area. Buses run between Can Tho to Soc Trang, Tien Giang, Ben Tre, Chau Doc, and Sa Dec. Depending on the province you're visiting, the journey time and cost may differ.
By bicycle/ motorcycle
Hire a motorbike or a bicycle and travel about the region would be ideal for adventure enthusiasts, passing by picturesque scenery, vast rice paddies, plantations, fruit orchards, mangrove forests, and more, and you'll find yourself buried in the really calm beauty of Vietnam's countryside.
2. Best times to visit:
The weather of the Mekong Delta is comparable to that of Saigon, with two distinct seasons: dry and wet. Because the weather is relatively constant in both seasons, you can visit this well-known destination almost any day of the year. The months of September through November are the finest for visiting the Mekong delta. The floating season occurs during this time when the water levels are high and the climate in the Mekong Delta is more comfortable. Not to mention, you are able to enjoy fresh fruits and local specialties
CAI RANG FLOATING MARKET
The bustling Cai Rang Floating Market, the largest of the floating markets in the Mekong Delta, is located about 6 kilometers from Can Tho. The market represents the distinct culture of the people who live along this tremendous river. They shop and trade on the river, which is more accessible to access by watercraft, rather than in the town. Stare in astonishment as you observe a swarm of small boats laden with regional goods congregates at a single location. It's fascinating to witness how folks live on the water while taking in the cool wind of the vast river. Take a ride on a local boat, get lost in the crowds, and sample some local fare on one of the wonderful boats.
MY THO
My Tho, a peaceful riverfront village perched on the north bank of the Mekong River, is located 70 kilometers from Ho Chi Minh City. Because of its proximity to Ho Chi Minh City and its handy location alongside a major tributary of the Mekong River, the town has become a major regional commerce center. This village, which is less than a 2-hour drive from the bustling city of Ho Chi Minh, is often disregarded by visitors, but it turns out to be a fantastic getaway with a variety of exciting activities. The best way to get a sense of this rich area is to take a boat ride through its winding waterways and canals, explore its luscious orchards, farms, and local attractions, and get a glimpse of the residents' everyday lives.
THOI SON (UNICORN ISLAND)
The largest of the four islands in My Tho region, Thoi Son (Unicorn Island), is where many guided trips departing from Ho Chi Minh City stop for lunch and fruit tasting. Boats may wind through the interior via narrow canals; skimming along these slender waterways, which are overhung by magnificent water-palm fronds that interlock to form a cathedral-like canopy, it's easy to feel like you're navigating new territory. The romanticism is enhanced by swooping electric-blue kingfishers and lavishly colored butterflies. Although local trips do not often include lunch, all tours do include a break for refreshments.
CON PHUNG (PHOENIX ISLAND)
Con Phung (Phoenix Island) is known for being the home of an unusual religious cult founded three decades ago by the eccentric Coconut Monk, Ong Dao Dua, however, nothing remains of his era, with only the skeleton of the open-air complex he created remaining. The monk created a rocket-shaped lift to transport him up to his secluded meditation platform among the maze of rusted staircases and platforms. There are nine dragon-entwined pillars elsewhere, which are claimed to represent the Mekong's nine tributaries and indicate a Cao Dai influence. The Coconut Monk's story is told (in Vietnamese) on a gorgeous urn made of shards of porcelain from France, Japan, and China, which he is supposed to have fashioned himself.
TAN LONG (DRAGON ISLAND)
Tan Long (Dragon Island), the least frequented island, has abundant sapodilla, coconut, and banana plantations, as well renowned longan orchards, beyond its disorderly shoreline of stilt houses and boatyards. Tan Long, like the other islands, is sparsely populated, with small farming and boat-building settlements.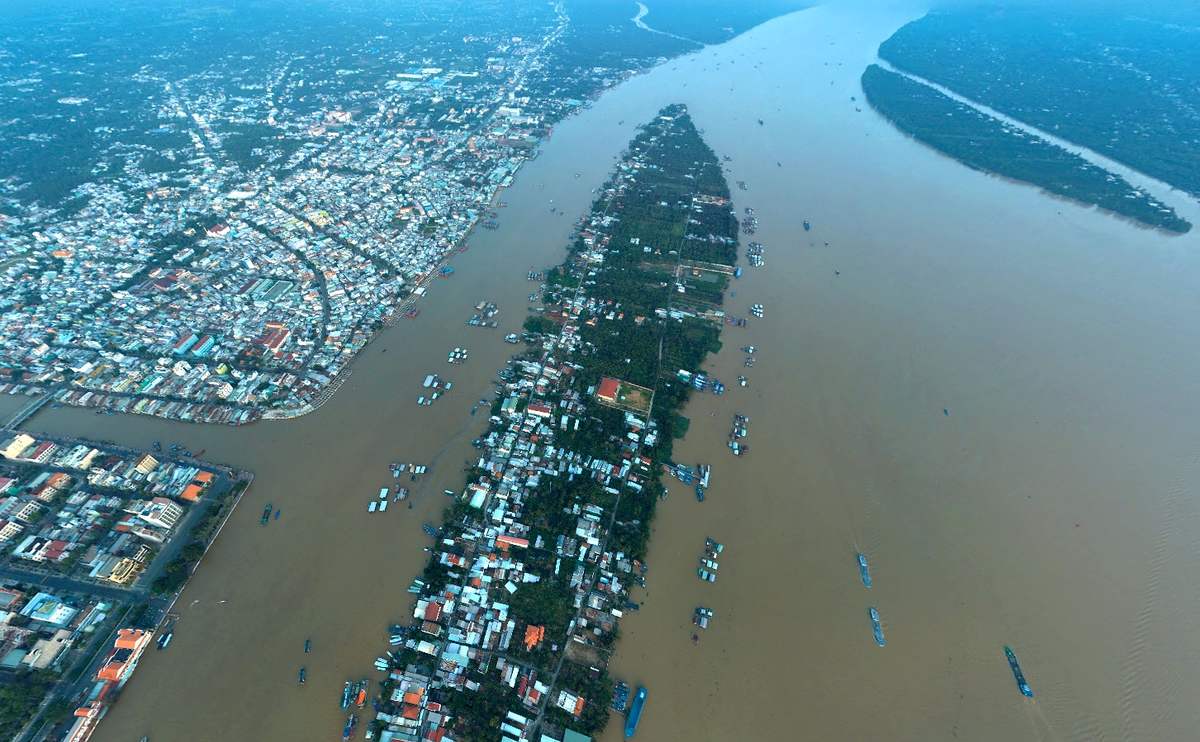 CON QUY (TURTLE ISLAND)
Longans, dragon fruit, mango, papaya, pineapple, and jackfruit abound on Con Qui (Turtle Island), the newest of the group, which was formed by river debris and stabilized by mangrove planting. Just opposite here along the Ben Tre beach is a small, family-run coconut candy factory where you can observe the coconut being squeezed and the extracted liquid being blended with sugar and cooked, then dried and sliced into bite-size pieces. You can purchase a box to take home with you.
BEN TRE
Ben Tre is a lovely and modest town that provides a wonderful contrast to the tourist-heavy My Tho. The surrounding area is lush and beautiful, despite the lack of specific features. With a bustling market and a new riverbank promenade that provides a lovely location to wander in the morning or evening, it's a relaxing and welcoming area to hole up for a couple of days. You may explore the tangle of trails on both banks of the river on a bicycle or motorcycle. Head out of town on a boat tour along the Ben Tre coastline, where labyrinthine waterways provide wonderful opportunities for exploration and stop at apiaries, rice-wine, and sugar-processing workshops are sometimes included.
VINH TRANG PAGODA
This huge pagoda, located in the center of the Mekong Delta region, is one of the Delta's most well-known attractions. Surrounded by lush gardens, this stunning pagoda entices visitors with its serene ambiance and unique construction that merges Japanese and Vietnamese styles flawlessly. This small gem is a perfect escape to delve into the amazing culture of the southern portion of Vietnam, located just one kilometer north of My Tho's downtown.
HUYNH THUY LE ANCIENT HOUSE
This marvelously atmospheric mansion is one of the most prominent tourist sites in the Mekong Delta and is thought to be the home of Huynh Thuy Le, a son of the most reputable family in Dong Thap in the past. The mansion was the site of a passionate love affair between Marguerite Duras, a prominent French writer, and Huynh Thuy Le, the son of a wealthy Chinese businessman. This historic mansion is not just known for its heartfelt love story, but it's also a fascinating spot to take in the gorgeous architecture — a stunning blend of French, Chinese, and Southern Vietnamese styles.
TRA SU CAJUPUT FOREST
The spectacular Tra Su Cajuput Forest is another excellent place to visit if you want to immerse yourself in the Mekong Delta Region's untamed and natural beauty. Tra Su is an 845-hectare mangrove forest ecosystem with a plethora of flora and fauna, including 140 plant species, 11 animal species, and numerous fish species. Its beautiful scenery and diverse resources make it a perfect place for researchers and tourists to come and learn about nature. Visiting this tourist location during flooding season (September and October) allows you to take in the region's magnificent splendor.
Suggested Itineraries
Bloom your Vietnam discovery with its…