Luang Prabang
Luang Prabang is a small Lao treasure located at the confluence of the Mekong and Khan rivers. It's a wonderful combination of rivers, mountains, spirituality, and man-made masterpieces, from calm temples to colonial shop houses, and it's steeped in history. Luang Prabang is Laos' cleanest and most culture-focused city. It was the country's royal capital until 1975, and it had been inhabited for thousands of years. The former capital, which is now a UNESCO World Heritage Site, is famed for its many cultural and historic features, as well as the abundance of Buddhist temples – wats – like as the gilded 16th century Wat Xieng Thong and Wat Mai, the former palace of Laotian top Buddhist. All of this takes place against a backdrop of lush foliage and rocky peaks.
1. Transportation:
1.2. How to get there?
A growing number of airlines have direct flights to Luang Prabang from surrounding hubs like Bangkok, Hanoi, Chiang Mai, Singapore,… In addition, many global cities are just one stop away so getting to Luang Prabang by plane is the most convenient way. On the other hands, travelers can also get there by bus from either Lao provinces or other countries such as Thailand, Vietnam or Cambodia. However, the traveling time is more than 24 hours and road condition is unpredictable. This is the best way to save up some penny and suitable for people who doesn't have motion sickness.
1.2. Ways to get around the city:
Bicycle
Luang Prabang is a tiny enough town that all of the peninsula's major sights and cafes are within walking distance. Bicycling is a popular and convenient mode of transportation. Rentals for a budget touring bicycle start at 10,000 kip per day and go up to 50,000 kip per day for a mountain bike, with some form of identification required as a deposit. Also many hotels offer bicycle rental so check with them too
Cycling in Luang Prabang is quite nice because there isn't a lot of car traffic. And if you go outside the central area, there aren't many pedestrians either.
Motorbike
Motorbike rental is available in Luang Prabang. However, this is not highly recommended to first time rider as the road condition is not very good, especially when you drive out of the city center. Furthermore, if you are into adventure and would like to try ride yourself to local attractions, beware to keep the motorbike within your eyesight or somewhere visible. Scam does happen and it may cost you a lot of money, and you don't want any hiccup ruin your holiday.
Tuktuk
Tourist tuk-tuk rides are expensive: they normally charge 20,000 Kip (1.74 USD; see Lao currency and Exchange Rate) for a single short journey, but you can haggle. It is even more cost effective to hire a tuk-tuk for the entire day, but you must negotiate and bargain about the price, which will range from 100,000 Kip (8.72 USD) to more depending on your route. Tuk-tuks can be hired not just for journeys about the city, but also for visits to nearby destinations, for a fee starting at 200,000 Kip.
2. Best times to visit:
Luang Prabang is best visited between November and March, when the weather is dry and the average temperature is nice. It can also get crowded, especially in January and during festivals, so plan ahead if you're visiting at this period. Other than that, between July and September, severe downpours are expected virtually every day.
ALMS CEREMONY
The alms-giving ceremony in Luang Prabang is a long-standing Lao Buddhist tradition. It starts on the main street in Luang Prabang and spreads out to all of the side streets every day as the sun rises. Approximately 200 Buddhist monks leave monasteries in this Heritage town each day to collect their daily meal. This is referred to as "Sai Bat" or "Tak Bat." Buddhist monks and novices dressed in orange robes leave their monastery every morning before dawn to receive food offerings from the locals. The majority of the offerings are sticky rice, which worshippers prepare before daybreak. However, fruit or other sweet delights may occasionally be included in the offerings, becoming part of the monks' daily meal. Luang Prabang has more than 30 active Buddhist monasteries, and the long column of monks marching slowly and barefoot to gather alms from people kneeling before them is a sight to witness.
Because the procession is very long, it is not recommended for particularly small children or those who cannot sit quietly for more than a few minutes. When joining an almsgiving ceremony, there are several unwritten etiquette norms to follow. If you aren't making an offering, keep a safe distance from those who are.
As a symbol of respect, shoulders, chests, and legs must all be covered. Keep a distance from the monk. You are permitted to snap photographs, but only from a safe distance and without the use of a flash.
When seated, remove your shoes and socks and put your feet beneath your seat as you witness the rite in complete quiet. When giving alms, female attendees must put their head lower than the monks. Even when making a donation, don't speak or touch the monks.
PHOUSI HILL
Luang Prabang's highest hill, Mount Phousi, stands at 100 meters above sea level. It's a great spot for viewing the sunrise or sunset over the Mekong River. From the summit, you can take in a breathtaking panoramic view of the city and its many temples, as well as the surrounding terrain and distant mountains. The hike to the summit of Mount Phousi takes over 300 steps, with various rest stops along the way. The climb is easy enough for anyone in excellent health to complete. The 355-step staircase, which begins near the Khan River on Thanon Phousi, is well worth the time to take in the numerous significant cultural sites, which include a reclining Buddha, a multi-headed serpent, a few seated Buddha images calling for rain, meditating or holding alms bowls, and a Buddha footprint. Late afternoon is the most popular (and busiest) time to climb Mount Phousi, when you can watch the sun set over Luang Prabang and the surrounding countryside. Head there early in the morning to catch the sunrise from the top of the hill for a lot more tranquil experience.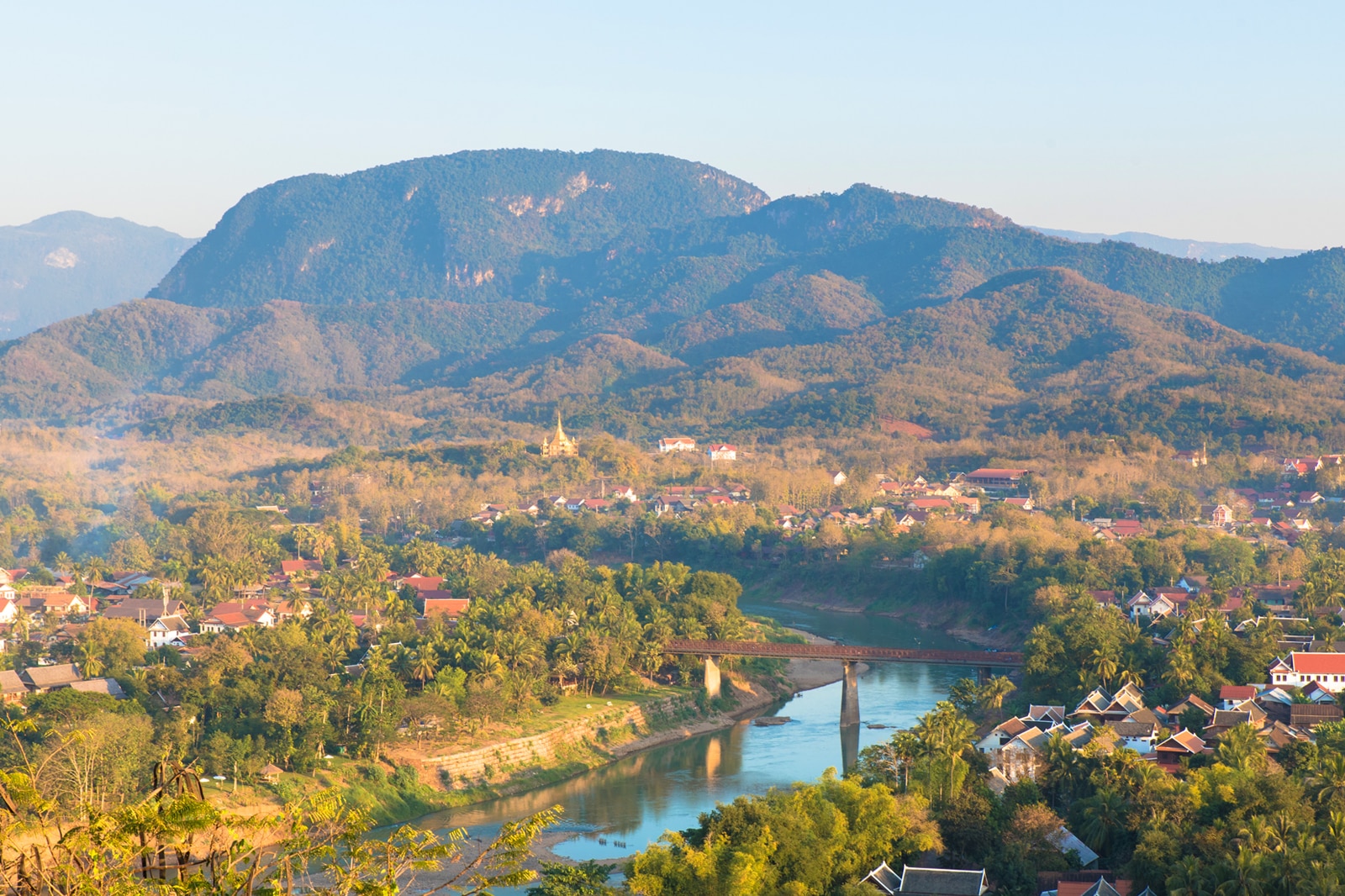 KUANG SI FALLS
Kuang Si is one of Laos' most spectacular waterfalls. It is quite popular with locals and visitors for day vacations and half-day trips. It can get very crowded there, especially during weekends and holidays. The Kuang Si Falls, also known as the Tat Kuang Si Waterfalls, are a three-tiered waterfall located about 29 kilometers (18 miles) south of Luang Prabang. The falls start in tiny ponds on the edge of a steep cliff. These lead to the main fall, which has a drop of 60 meters (200 feet). You should try to hike up if you are an adventure seeker. Despite the fact that the waterfall is not particularly tall, it does necessitate some effort. People will ascend the wooden footbridge from the left side, which has stairs. Because water flows through portion of the landscape, it is difficult and steep. There are also no guardrails. To get to the top, it will take you about 15–20 minutes. In exchange for your efforts, you will be rewarded with a breathtaking view of the Lao countryside and an escape from the throngs below the falls. Before going downstream, the water pours into a turquoise blue pool. Swimming in it is the most enthralling activity. Because of the limestone, the water at Kuang Si has such a lovely natural color. Water runs from the springs to the main waterfall, then down the cascades, passing over several limestone rocks. Limestone particles in the water contain a lot of calcium carbonate, which reflects light and gives the water a beautiful turquoise-blue color. Kuang Si Falls has a significantly milder climate, making it an excellent place to cool off in the summer. A day spent playing in the falls is especially enjoyable for kids. Bring a picnic or buy food and drinks from the concession stalls to spend a relaxing day at the waterfalls. You can have your dinner at the tables in front of the lower-level pools.
PAK OU CAVE
The Pak Ou cave is one of Luang Prabang's most popular tourist attractions. It is a historic and spiritual monument that attracts both Laotians and foreign visitors. It is located approximately 25 kilometers north of the capital. The caverns along the Ou River's estuary are known as "Pak Ou." Tam Ting and Tam Pum are two caverns in the cave system. The caves of Tam Ting are known as the "Cave of a Thousand Buddha Statues." There are thousands of Buddha sculptures ranging in size from modest to as tall as a person, as the name suggests. According to recent research, there are around 4,000 statues in two caverns, 1,500 in the top cave known as Tam Pum cave and 2,500 in the lower cave known as Tam Ting cave. The majority of these statues are made of wood, which is then painted with red or black lacquer before being covered in gold leaves. There are also several that are constructed from animal horns, bronze, and ceramic.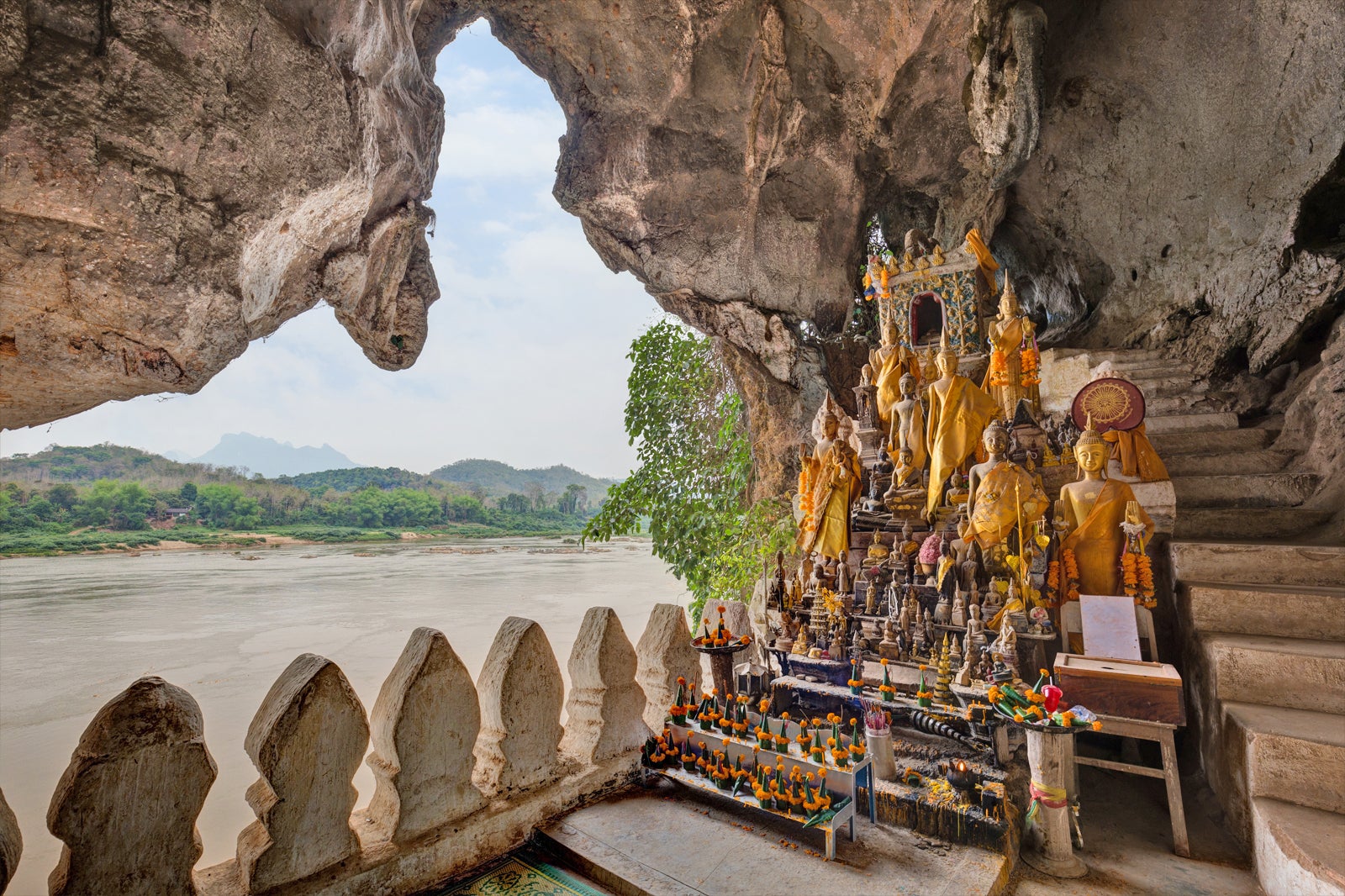 WAT XIENG THONG
Wat Xieng Thong is a notable testament to the spirit of Lao religion, royalty, and traditional art, and it is one of the most beautiful and important of all the Buddhist temples in Luang Prabang. This spectacular temple, a symbol of enormous historic significance, is typical of the Luang Prabang architecture, with an ornate tree of life mosaic, intricately carved walls, small rooms and stupas with historical Buddha statues, and a 12-metre high funeral carriage. Wat Xieng Thong, often known as the 'Golden Tree Monastery,' is strategically located near the Mekong River's confluence with the Nam Khan River, serving as a gateway to Luang Prabang.
This monument was once the site of Lao royal coronations and is now a popular gathering spot for key annual celebrations. The first temple, constructed by King Setthathirath in 1560, narrowly escaped assault on multiple occasions. The wat is still in its original state, but it received much-needed renovations in the 1960s, including roof repairs, gold leaf gilding, and gold lacquering restoration to the walls and entrance.
ROYAL PALACE MUSEUM
The Royal Palace Museum, located directly across from the world-famous Mount Phousi, offers a window into pre-communist Laos' past and the lifestyle of a monarchy. The Royal Palace Museum should be a on the list of must-visit-attraction with any trip to Laos.
During the French colonial period, this massive, magnificent palace compound was created as the residence of King Sisavang Vong and his family, and features a fusion of Lao and French architectural styles. It was created specifically on this site to allow official visitors to Luang Prabang to get access to the palace after disembarking from a Mekong River cruise.
The front reception wing, the Throne Hall, the dwelling quarter, and a few other small structures make up the palace museum. It has a plethora of royal antiques, treasures, and personal objects, including the standing Buddha (pha bang) that gave the city its name, thrones, weaponry, photos, and gifts to the Lao royalty from various heads of state. There's also a collection of ancient cars from the 1950s to 1970s that were utilized by the royal family.