Krabi
Krabi region is home to some of Thailand's most beautiful seascapes and scenery. The coast of the province is flanked with spectacular limestone cliffs that offer some of the best rock climbing in Southern Thailand. Exploration of surrounding islands is a popular alternative for additional activities. The islands of Chicken and Poda are popular stopovers for travelers looking for deserted beaches. The number of islands to explore from Krabi appears to be limitless — with 150 golden beach islands and islets within easy reach, Krabi is the ideal castaway place to relax in.
1. Transportation:
1.2. How to get there?
Flights to Krabi town depart from Bangkok's Airport and arrive in under 90 minutes. You'll need to sort out transportation once you arrive at Krabi International Airport, which is 15 kilometers outside of town. Outside the airport, air-conditioned shuttle buses, songthaew (shared pick-up taxis), and conventional taxis are constantly available. To avoid being overcharged, always arrange a flat rate before beginning the ride.
1.2. Ways to get around the city:
Minivan and local bus
There is a local bus service that runs between Krabi Airport, Krabi Town, and the famed mainland beach of Ao Nang. There are various rest breaks along the way. However, unlike many other places in Thailand, Krabi lacks a comprehensive network of local buses. Numerous sites in the province are connected by white minivans; many trips depart from Krabi Town's bus terminal.
Ferries and speedboats
Krabi is connected to various islands in the Andaman Sea via ferries and speedboats. During the high season, you can easily visit Phuket, Koh Lanta, and Koh Phi Phi, with many services available each day. During the monsoon season, there are frequently fewer services and crossings are vulnerable to cancellation. Ferries and speedboats are available from the piers at Krabi Town and Noppharat Thara Beach.
Boat Taxis
Long tail boats go along the coast linking Ao Nang, Krabi Town, Ton Sai, Railay, and Phra Nang. Services are normally inexpensive, and departures are scheduled on a regular basis. However, many drivers will not leave until they have a certain number of passengers, so if you're the first on the boat, prepare to sit and wait for a while.
Samlor
Samlors are generally reasonably priced for short distances and are readily available throughout Krabi Town and the Ao Nang beach area. A samlor is just a motorcycle with a sidecar bolted to it. You should agree on a fee ahead of time, but keep in mind that they often charge per person rather than per ride.
Tuk Tuk
In Krabi, there are two types of tuk-tuks: the ancient three-wheel vehicles and the newer four-wheel vehicles. The older tuk-tuks are most likely to be found in Ao Nang. Each operates in the same manner, providing private door-to-door transportation. Before embarking on your trip, always agree on a price. If you want the driver to wait for you at a specific location and return you back after your visit, you should also agree on the complete fare ahead of time.
2. Best times to visit:
Between December and March, when the weather is most stable, is the best time to visit. March is the hottest month of the year, with an average daily high of 35C and a low of 22C. August is the coolest month of the year, with an average daily high of 31C and a low of 24C.
RAILAY BEACH 
Railay Beach is actually a small peninsula with four beaches. Railay is already on every sensible traveler's itinerary, but it remains one of Thailand's most sought-after beach destinations. Railay is a serene and unique world located just south of Ao Nang Beach, around a rocky promontory and only accessible by boat.
There are hardly any roads in Railay; only footpaths. There are no buses or cars, only longtail boats. Despite being connected to the mainland, the beautiful Phra Nang Peninsular is effectively blocked off from the rest of Krabi by limestone headlands and steep jungle valleys; the only way to get there is by water. Railay is the epitome of a tropical paradise, with no roads and no hassles. It provides relaxed days, adventure excursions, and chilled-out evenings.
KOH PHI PHI 
Ko Phi Phi, or Phi Phi Island, is one of the most hyped about destinations in Southeast Asia, thanks to its natural beauty and reputation for a good time. The island's beauty is unrivaled, especially in an area of the world known for its magnificent resorts. Phi Phi is a gorgeous tropical island with limestone cliffs, turquoise waters, white sand beaches, and miles of trackless forest.
Koh Phi Phi Don is the archipelago's largest and only inhabited island. This island has undergone significant development, and there are now multiple supermarkets, restaurants, dive centers, and lodging alternatives. Koh Phi Phi Don has a busy nightlife, making it an excellent choice for a fun-filled island.
The smaller islands of Koh Phi Phi Leh and Koh Phi Phi Leh are uninhabited. They are a part of the National Park and are only visible on guided trips. Koh Phi Phi Leh is the island where scenes of the film "The Beach" were shot, and its Maya Bay beach is now quite popular with tourists throughout the day, making it a highly busy site. Other islands in the archipelago of Koh Phi Phi are Koh Mai Phai ('Bamboo Island'), Ko Yung ('Mosquito Island'), Bida Nok and Bida Nai.
KRABI EMERALD POOL
The Krabi Emerald Pool (Sa Morakot) is a one-of-a-kind tourist attraction in southern Thailand. Krabi is well-known for its natural beauty, and the Emerald Pool in the Thung Teao Forest Natural Park, an uncommon lowland forest rich in bio-diversity, replete with a nature walk and a crystal pond, should be on your must-see list.
The nature trip, located in the Khao Pra-Bang Kram area, is an excellent place to see uncommon wildlife and plant species, including the Pitta Gurney bird, which was formerly thought to be extinct. The forest is rich, with ancient trees reaching to the sky, strange woodland species, and limestone hillsides leading to a brilliant emerald pool.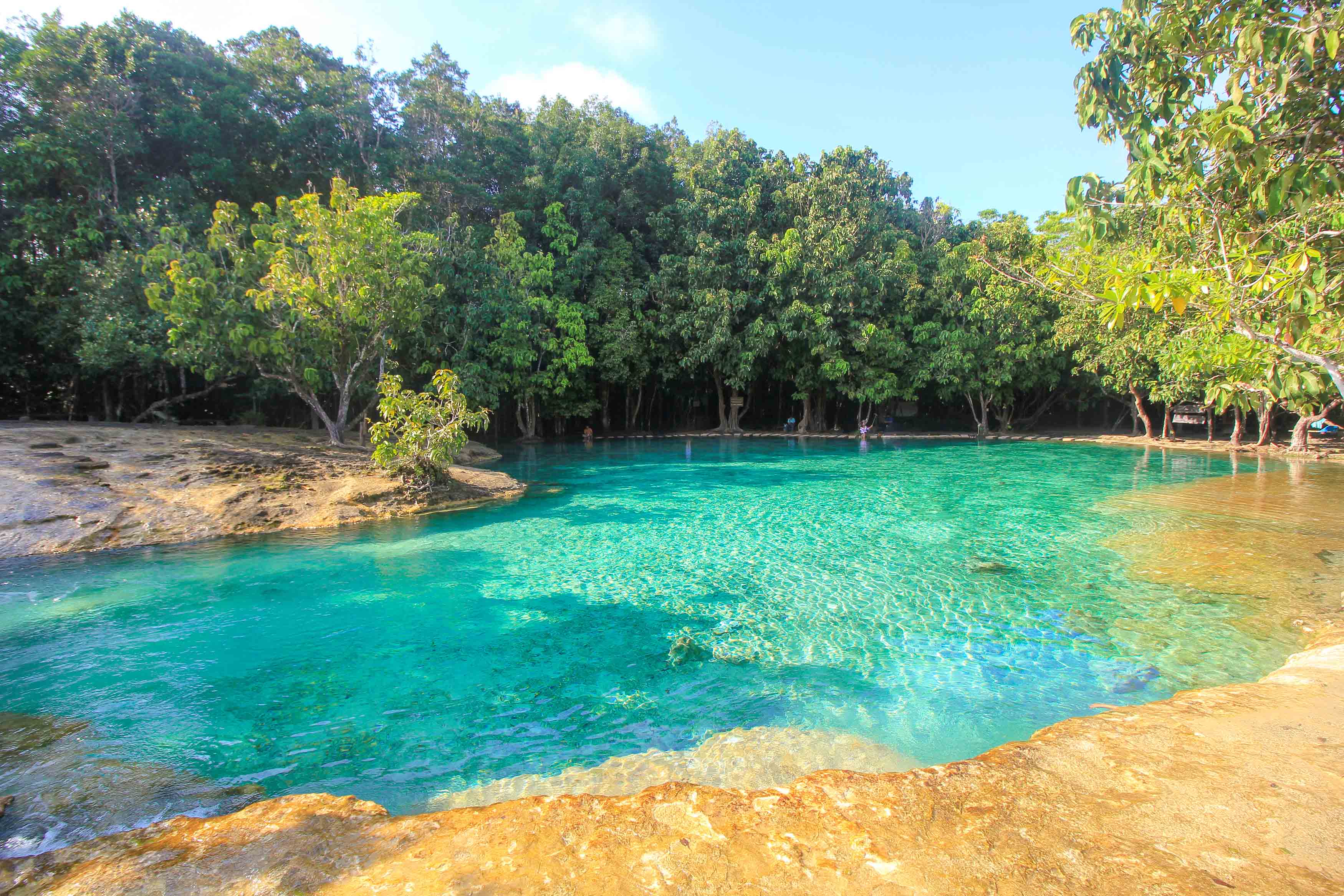 KRABI TIGER CAVE
Krabi Tiger Cave provides a genuine spiritual experience in the midst of breathtaking natural surroundings. Tiger Cave Temple, also known as Wat Tham Sua, is located 5 kilometers northeast of Krabi Town. It is one of Thailand's most beautiful natural wonders and is well worth a visit. The temple is a maze of natural limestone tunnels formed internally at the base of a towering rock. The main temple cave contains exquisite iconography, but the primary draw here is the 'footprint of the Buddha.'
To reach this historic landmark, ascend 1,237 steps up the limestone tower. Krabi Tiger Cave is a difficult hike, especially in the Thai environment. Those who reach the summit are rewarded with spectacular 360-degree vistas. The view includes the Andaman Sea, spectacular limestone cliff formations, and lush jungles. On the terrace, you'll also find 'the Buddha's footprint.' The views are especially beautiful at daybreak and sunset. It's also the greatest time to hike up and get out of the sun.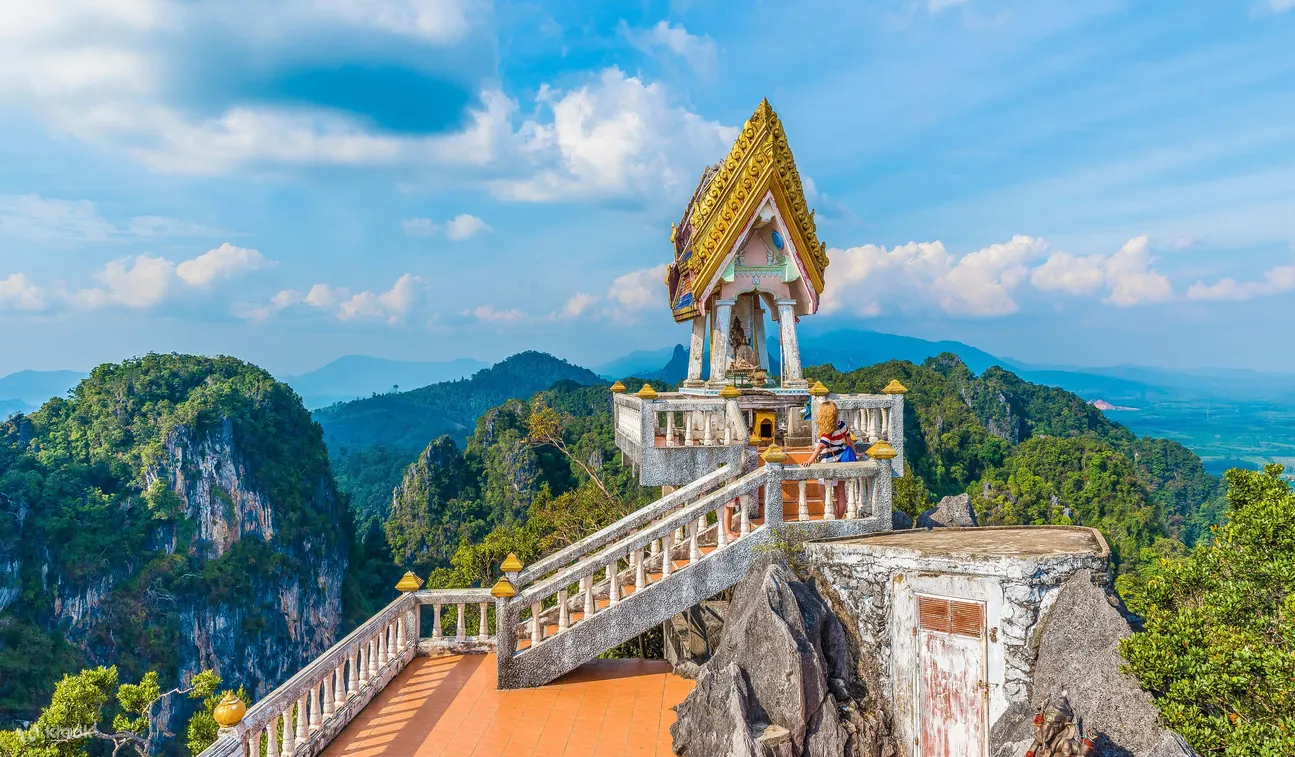 KRABI HOT SPRINGS
The Krabi Hot Springs are therapeutic and calming 'hot baths' carved into smooth rock that channel water from deep rooted thermal springs found in volcanic chambers. The waters have an average temperature of 35-40 degrees Celsius and are rich in natural mineral salts that are said to alleviate a variety of health problems, including rheumatism and sciatica. The sensation is completely calming, and the setting is undoubtedly one-of-a-kind; image reclining in a bath tub hollowed out of natural stone and surrounded by rainforest. These jungle baths drain into a refreshing stream that is ideal for dipping and diving into. The hot springs are located around 70 kilometers from Krabi town, in the center of a small jungle preserve near the Khao Phra Bang Khram Nature Reserve. It's worth spending the time to combine all of these beautiful eco-spots in one nature-filled day because they're all located in the same reserve as the Emerald Pool and Thung Teao Forest Natural Park.
Suggested Itineraries
No tours match your criteria