Koh Samui Island
Thailand's third largest island has established a diverse range of luxury resorts and superb restaurants in a tropical setting. The island, one of Thailand's most popular vacation spots, Koh Samui offers a bite-sized sample of everything that tourists love about Thailand. With idyllic shorelines, stunning waterfalls and , affordable spas, accessible hikes, fantastic street food and a great party scene, the island packs plenty of excitement and adventure into its humble confines.
1. Transportation:
1.2. How to get there?
Flying is the simplest and quickest way to get to Koh Samui and there are many flights operates per day from Bangkok. If you would like to experiences local ways and save your budget, you can fly from Bangkok to Surat Thani and then take a ferry across to Koh Samui. This is less expensive than flying straight to Koh Samui, but the bus from the airport to the pier and the ferry across to Koh Samui add at least 3 hours to your journey.
1.2. Ways to get around the city:
Songthaews
Phuket isn't the only Thai island using Songthaews as a mode of public transportation. Koh Samui has its fair share of these typical modified pick-up trucks as well. Songthaews are the cheapest means of public transit on the island, costing roughly 40.00 to 50.00 per ride. Most locals favor them over all others, and they're the closest the island has to buses. Songthaews frequently take their own paths, and it is up to you to request that the driver drop you off at your desired location. In terms of where to find one, their stops are usually located along major thoroughfares and busy streets.
Taxi
There are a lot of taxis on the island, and they're mostly yellow or maroon. Many of them can be found parked along some of Koh Samui's busiest roads, notably in the island's busiest districts and neighborhoods. When hailing one from the street, make sure to ask the driver to run the meter before departing. If they insist on not doing so, be prepared to negotiate a fixed rate so you don't get taken advantage of.
Motorbike taxi
Motorbike taxis provide a one-way door-to-door taxi service. Solo travelers and thrill seekers can quickly and conveniently zip across Koh Samui's streets, avoiding traffic congestion. As with taxis, it's a good idea to get a general price from an independent third party, and you should always agree on a price ahead of time. Motorcycle taxis frequently wait in groups, and drivers wear high-visibility vests.
Boat/ Ferry
Despite its size, Koh Samui is an island in and of itself. Aside from taxis and Songthaews, you can also navigate the island by boat. There are plenty at the Nathon pier, which is the busiest of its kind on Koh Samui. Not only will you be able to rent ferries and speedboats here, but you will also be able to catch boats that will take you back to mainland Thailand. Not to mention those that visit neighboring islands. Taking a ferry is your best bet if you want to go island hopping inside the province of Surat Thani!
Scooter rental
What if you want to take your time exploring Koh Samui? Taking a taxi or a Songthaew is convenient, but you are at the mercy of their routes, schedules, meters, and other factors. The island has a plethora of rental options, ranging from vans and vehicles to motorbikes. A few foreign corporations, such as Kayak and Hertz, have also established themselves here. It is entirely up to you which service you choose. However, keep in mind that some of them, particularly large corporations, will need you to show your (international or local) driver's license. Make sure you've got yours ready.
2. Best times to visit:
The dry season, from December to February, is the greatest time to visit Koh Samui. Every season on Koh Samui has something unique to offer. High season, also known as dry season, is busy, but the weather is pleasant and there will be no rain. This is the greatest time of year to visit if you want to jump into the sea, explore the local islands, or take a boat excursion.
CHAWENG BEACH 
Chaweng Beach is the most popular beach on the island, and it's simple to understand why. It's a magnificent strip of beach fronted by cerulean-colored sea. Blue skies, even bluer oceans, and powdery-soft sand create a paradise-like atmosphere, but there's much more to do here than relax. Chaweng, the village behind the beach, has the best nightlife in the area, so you'll never be far from refreshments after a long, hard day of sunbathing.
SILVER BEACH
If Chaweng is the most popular, Silver is unquestionably the most gorgeous on the island. Its lush forest views and rocky outcrops provide the impression of being stranded in paradise with no desire to be rescued. While the rocks at the end of the beach make swimming difficult, it is a great snorkeling area, and there are a few massage shacks and beach bars along the length of the beach. It's quieter than Chaweng and located in Lamai, which yet has plenty of activities to offer without ever feeling like you can't get away from the noise.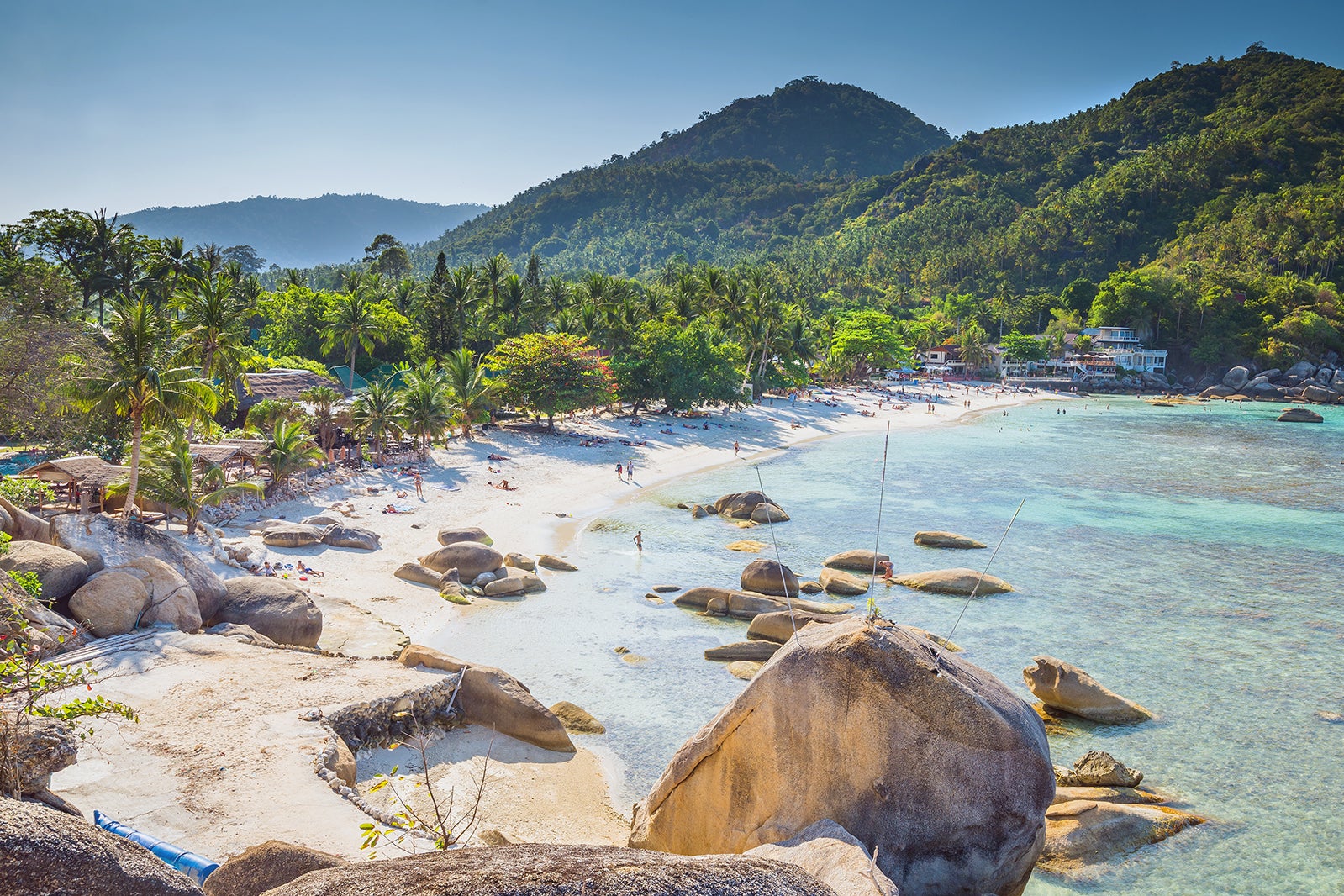 HIN TA HIN YAI
Nature is full of surprises, and the Hin Ta Hin Yai rocks off Samui's south coast are excellent examples. Every day, thousands of visitors flock to see these male and female genitalia-shaped boulders, which are one of the island's most prominent tourist attractions. It's free to visit and makes for an interesting holiday photo, so it's a fantastic way to spend a morning before exploring the local area.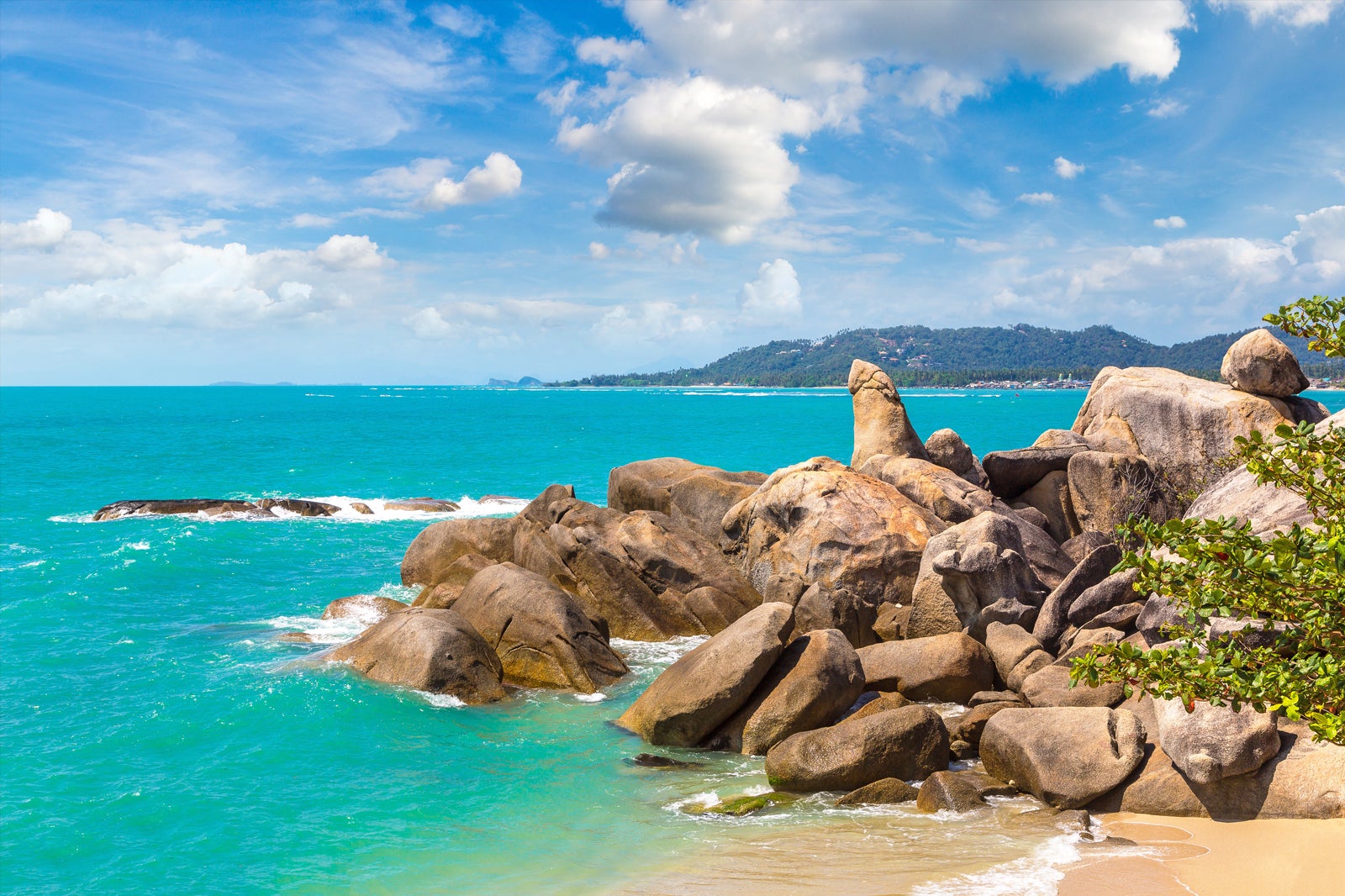 MU KO ANG THONG NATIONAL PARK
The Mu Ko Ang Thong National Park trip displays the finest of what Thailand has to offer. What you do on a tour of this national park is entirely up to you, from swimming to snorkeling, exploring to trekking. It's a must-see for nature enthusiasts, with archipelagos of magnificent, uninhabited islands, amazing natural features like caverns and waterfalls, and quiet, empty beaches.
KOH TAEN
Koh Taen, often known as Coral Island, is only five kilometers off the coast of Ko Samui. Although technically part of the main archipelago, Koh Taen is only accessible by boat and is rarely frequented by visitors, despite its magnificent coral reefs, superb mountain biking paths, and a unique mangrove forest teeming with native animals. The island is also home to a large number of monitor lizards, which can grow to be up to 2.5 meters long, as well as a number of modest bungalows that can be hired for overnight visits. Although Koh Taen has fewer than 50 year-round residents, a variety of firms provide day cruises to the island for kayaking and snorkeling. Koh Taen's seas are smooth and quiet due to its placement among several small archipelagos, perfect for kayaking along the coastline.
Suggested Itineraries
No tours match your criteria