Koh Phangan
The island of Koh Phangan (sometimes spelled Ko Pha-Ngan) is Thailand's fifth largest and one of its most picturesque and wild.  The famed Full Moon Party and Black Moon Party on Koh Phangan are the island's greatest claim to fame, with the Full Moon events attracting between 10,000 and 30,000 revelers on New Year's Eve. However, Koh Phangan has plenty more to offer than just the well-known parties. Koh Phangan is a tropical paradise surrounded not only by quiet white and fine sand beaches, but also by turquoise blue waters. You can also explore the beautiful jungle, rocky beach, and hilly terrain.
1. Transportation:
1.2. How to get there?
There are various methods to go to Koh Phangan from Bangkok. Flying from Bangkok to Koh Samui, from whence you may take a short boat ride to Koh Phangan, is the most convenient and fastest option.
On the other hand, flying to Surat Thani or Nakhon Si Thammarat in the south mainland is another option. You should then take a bus to the Don Sak port, where you can choose from a variety of boat and ferry operators. Tickets for the bus and boat can be purchased at the airport or easily online.  Lomprayah is the quickest firm, and the boat ride from the mainland to Thong Sala, Koh Phangan, takes about 1,5 hours.
1.2. Ways to get around the city:
Songthaew
A songthaew is a mixture between a taxi and a bus, and it's usually a pickup truck or utility vehicle that's been adapted to transport people. They operate similarly to public buses, but without the need for bus stops, fare collectors, or timetables. If you want to travel for a reasonable fee, the car may wait for the tank to fill up before picking up and dropping off passengers. The most popular route between Haad Rin and Thongsala has a fixed fee of Bt100 per passenger; however, this and other prices are expected to treble after the last boat arrives.
Scooter Rental
A scooter is one of the most convenient methods to move around Koh Phangan, yet riding one without knowing what you're doing might be risky. A 24-hour scooter rental will cost you between $150 and $300, and practically every business will request you to leave your passport as a deposit. This is not something we encourage since if something happens to the scooter, the store owner can hold it as collateral, no matter how little the damage is. However, if you are confident in your driving abilities and want to explore the island on your own schedule and with complete freedom, renting a scooter may be your best option!
Long Tails Boat
Boarding a long-tail around the island is perhaps one of the most beautiful ways to view Koh Phangan, although it is not the fastest method to tour the island. Haad Yuan and Bottle Beach, for example, are only accessible by boat and cannot be reached by cab or bike. Haad Thian, Haad Yao, and Haad Yang are three other beaches that may be reached by boat. These taxi boats may be found on most of the island's major beaches, as well as at the Chaloklum Pier.
2. Best times to visit:
The greatest time to visit Koh Pha Ngan is between December and March, when the humid season has begun to fade and the monsoon has yet to arrive. The busiest months are December and January, when everyone is looking forward to the famed celebrations.
CHALOKLUM
The beaches of Chaloklum and Haad Mae Haad are located on Koh Phangan's northern shore. Chaloklum Beach is a 2.5-kilometer stretch of sand with a tiny hamlet and pier in the center. Along the adjacent beach, colorful long-tail fishing boats moor, while the main street is lined with Chinese-style wooden restaurants, residences, and shophouses. One of Koh Phangan's most popular fishing spots is the pier. The neighboring mountains and hills provide wind protection, resulting in ideal wakeboarding conditions.
There are various bungalow enterprises in Mae Haad, as well as a couple of coastal resorts. At low tide, a sand bar connects the northern end of the beach to Koh Ma. Mae Haad's character is calm, serene, and ambient, in contrast to Haad Rin's brashness on the other side of Koh Phangan.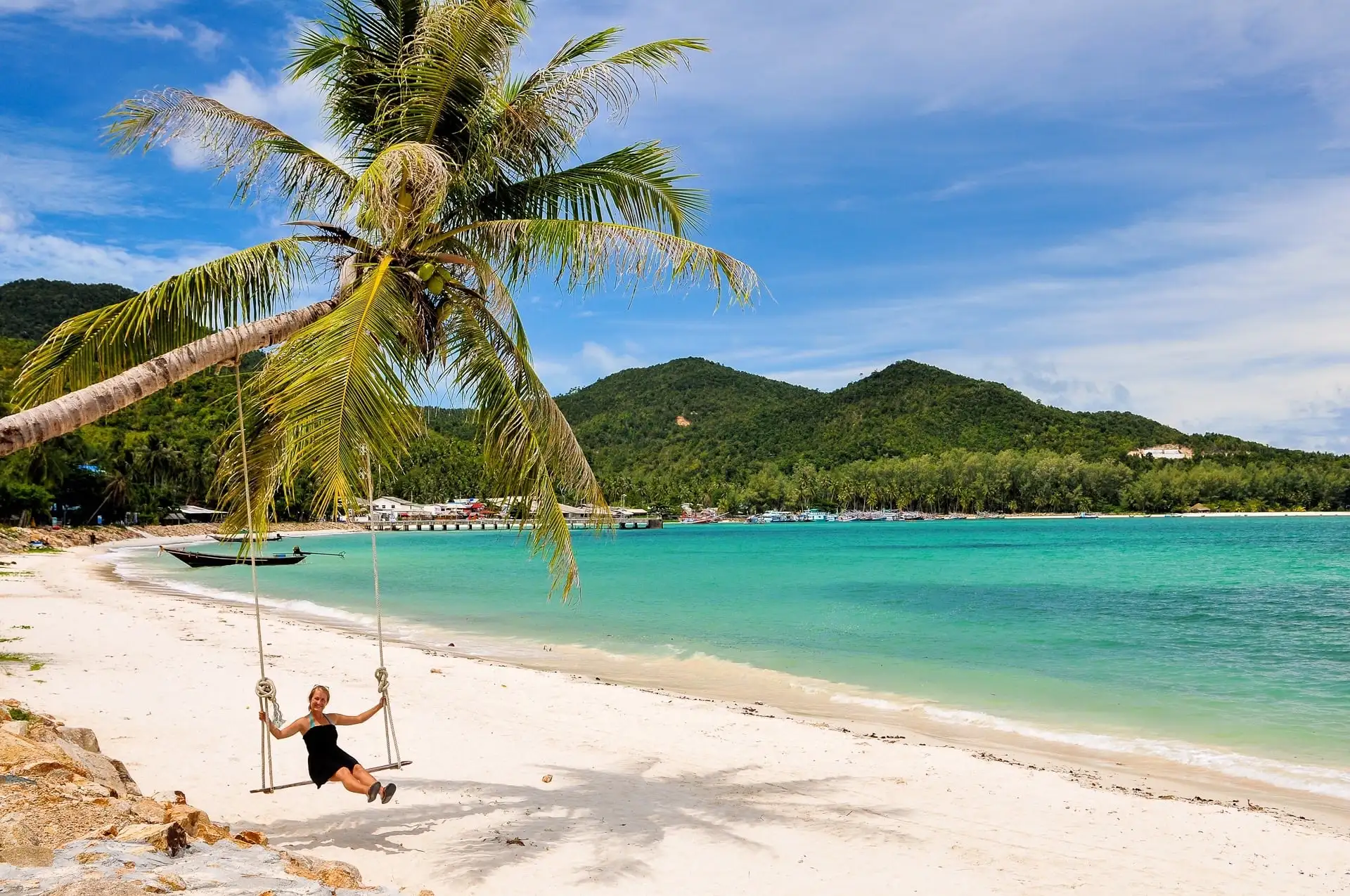 HAAD RIN
The monthly Full Moon Party has made Haad Rin the most well-known town on Koh Phangan. It's undoubtedly the nicest town on the island for dedicated partygoers, although it can be disappointing for those looking for the'real' Thailand.
Sunrise Beach and Sunset Beach, separated by a rocky promontory, are the two main beaches in Haad Rin. Between the beaches, there is a maze of streets dotted with pubs, restaurants, pharmacies, and modest beachwear shops. In the heat of the day, Haad Rin can become rather claustrophobic. With bars, pubs, and clubs pounding out music at night, the area actually comes alive.
THONG SALA
Thong Sala is a fantastic shopping location with a superb selection of eateries and a vibrant food market. The town serves as the administrative and financial hub of the island. It also houses Koh Phangan's main port, which welcomes boats from Koh Samui and Koh Tao.
There are several bars that display Premier League football, as well as a full-fledged English pub. If you're going to a beach on the west coast of the island, it's definitely better to take a ferry to Thong Sala rather than Haad Rin.
THAN SADET NATIONAL PARK
Than Sadet National Park is located in Koh Phangan, Thailand. It comprises 41,251 rai, including the Koh Phangan National Forest Reserve, and was previously known as Namtok Phaeng Forest Park. and forest regions that are not part of the national forest reserve, such as the islands The park around Koh Phangan still keeps the jungle in good shape. Plants come in a wide variety of shapes and sizes. There are other orchids with the world's longest trunks, such as Phet Huang or Wan Hang Chang, which have a trunk that is more than three meters tall.
The park's most well-known feature is a 2.5-kilometer section of stream with numerous tiny waterfalls. Starting at the top of the series of waterfalls from Wat Thong Nang near the King Rama V Memorial Statue near the roundabout at the start of the newly built concrete road down to Than Sadet Beach, the adventurous traveler with time to spare could start at the top of the series of waterfalls from Wat Thong Nang near the King Rama V Memorial Statue near the roundabout at the start of the newly built concrete road down to Than Sadet Beach. Before the statue, there is a small road to the spartan Wat Thong Nang temple, and there are steps down to the stream and one of the first waterfalls if you walk to the far end of the big rock upon which the Ordination Hall is erected.
Suggested Itineraries
No tours match your criteria