Ha Long Bay
Ha Long Bay – one of the 7 Wonders of the Natural World.  Formed by million years of sea transgression, the bay of descending Dragon as its name translated has near 2000 limestone islands and islets scattered like gems in a vast tranquil area of sea water. Visit local fishing villages and explore fascinating karst islands with animals and various figure shapes while sailing through the best part of Ha Long Bay are highlighted.  Designated the World Natural Heritage site by UNESCO in 1994, Ha Long Bay is among the best of what Mother Nature gives the country and a journey to Vietnam would be incomplete without a stop here.
1. Transportation:
1.1. How to get to Ha Long Bay?
The travel from Hanoi to Halong Bay now takes only 2 hours thanks to the new Hai Phong – Quang Ninh expressway. For the client's convenience, most of the cruises provide limousine shuttle service with a complimentary bottle of water, Wi-Fi, and USB chargers.
1.2. Ways to get around Ha Long Bay:
Day trip boat:
If your time is limited then booking for a day trip is a good idea to have a glimpse at the beauty of Ha Long Bay. The boat won't take you too far from its dock yet allow you to visit some of the most popular attractions in the Bay. Lunch served on board with other included activities such as: visiting Wonder cave, fishing village, and kayaking or bamboo raft ride.
Overnight cruise ship:
The most recommended option, yes, is a fantastic cruise trip to admire the UNESCO Heritage site with the best it can offer. Various selections of boats to choose from at the harbor from elegant boutique cruises to fancy modern boats. Numerous limestone islands to behold on the way, fine dining experiences and other activities like morning Tai-chi lessons or squid fishing along with discovering spectacular grottoes shall make your trip memorable.
2. Best times to visit:
The weather to see Ha Long Bay is ideal from April through June, allowing you to swim and relax on the deck in the evenings. Not to mention the sky is blue and clear, giving you the opportunities to explore the karst islands and grottos with a clear vision. The wintertime from October to December can also be considered a good time to visit Ha Long Bay as it's dry on most of the days. The fog highlighted the magnificent layers of effect created by the differing distances between the islands and offers you the mysterious atmosphere.
3. Tips when visiting Ha Long Bay:
Tipping is not customary in Vietnam, feel no pressure to tip here. If the service exceeds your expectation, a tip is highly appreciated and valued.
Some overnight cruises do offer WiFi on-board, however, the internet connection is not stable and even unavailable, especially when sailing far away from the mainland, since the area is surrounded by large karst mountains and can easily block the signals. This can also be applied to phone services.
Halong Bay has thousands of islands, ensuring that the waters remain still, similar to those of a lake. Even the most sensitive people rarely get seasick, but it's a good idea to have some seasickness medicines on hand just in case.
When visiting Halong Bay, it is recommended that you bring sunscreen, mosquito repellent, and windbreakers in case the weather doesn't somehow cooperate.
THIEN CUNG
Thien Cung (Palace in Heaven) is one of the most popular attractions in Ha Long Bay. The splendid grotto's chambers are coated with stalactites and stalagmites formed by water trickling through its limestone walls in millions of years. Visiting the site, you would hear interesting stories about numerous shapes of stalactites and the legend of King Dragon.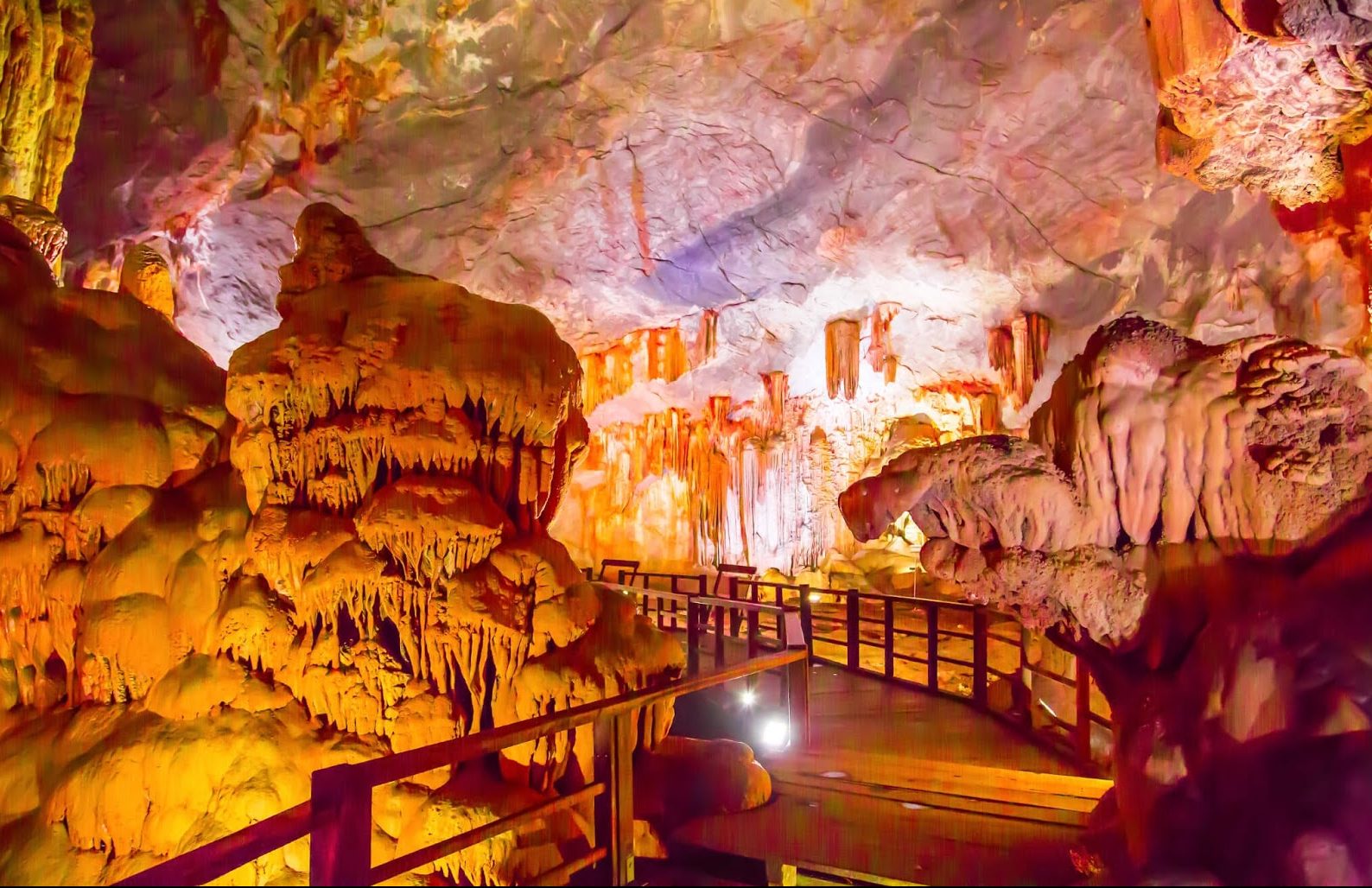 DAU GO
Dau Go Island meaning 'Wooden Stake' is a neighbor to the magnificent Thien Cung grotto. The island is 5,000sq meters in size and has a house to three large caves. Each cave has its own beauty with an ancient rocky look and the natural harmonious showcase of stalactites and light.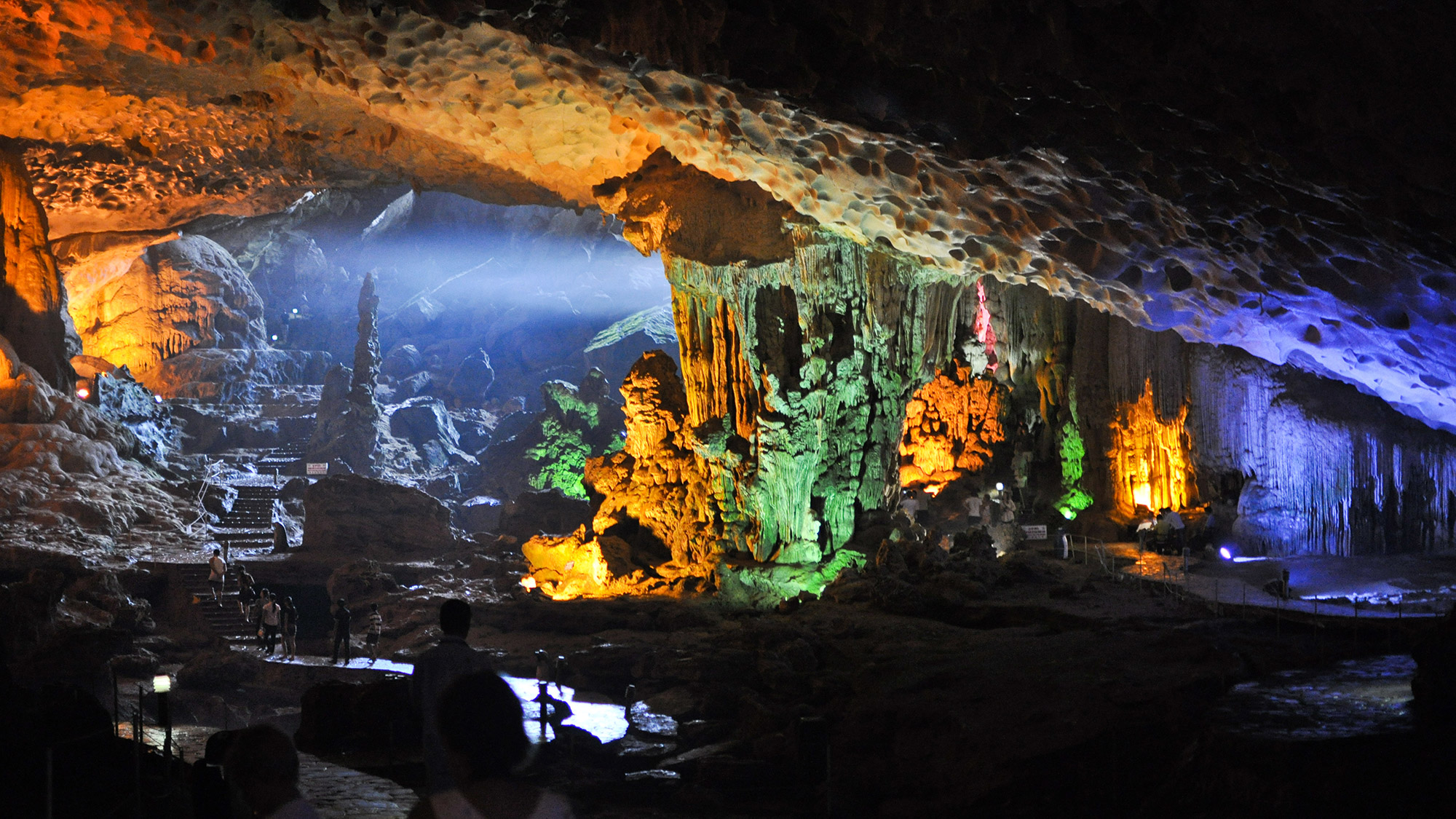 SUNG SOT CAVE
Sung Sot or 'the Grotto of Surprise' suggests that its look may fascinate you with plenty of rocky shapes naturally carved in its three chambers. The highly-rated grotto is located among a group of caves on Bo hon island. Sung Sot covers 10,000sq meters and is praised as one of the most beautiful grottoes in Ha Long Bay.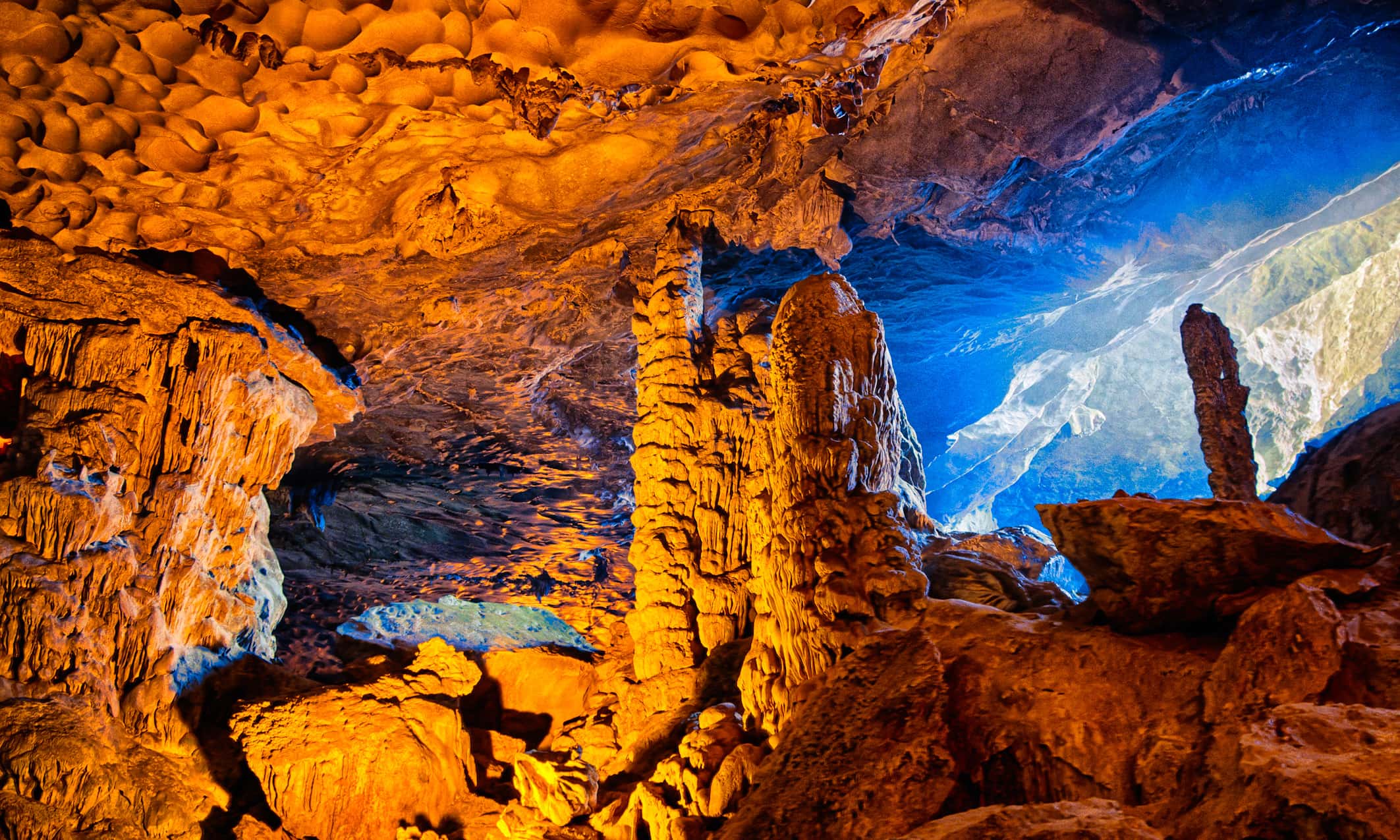 TITOV ISLAND
The island was named after Russian cosmonaut Gherman Stepanovich Titov, who visited the island in 1962 with President Ho Chi Minh. Titop Island has subsequently grown in popularity as a tourist destination, offering a variety of services. Titov Island also has a viewing spot at the top of the island where visitors can spend time admiring and capturing the breathtaking panoramic views of Halong Bay. If you prefer a more relaxing trip to Titov Island, you can swim, sunbathe, or unwind in a deck chair while sipping a refreshing coconut.
Suggested Itineraries
Let's exert your sweat during a 14-day trip to rising stars destinations in the series of Southeast Asia Tours – Vietnam and Cambodia.  As the kick-off for the chain of discovery activities, Bavi Eco Tour will bring its new fellow's plenty of sweet and "sweat" memories. Joining cycling, tea-leave harvesting, cooking, etc. Those activities are sounds hectic but surprisingly comfortable. Then, Mai Chau awaited the pioneers-to-be and arranged a table of its dishes such as kayaking or hiking. After that, a tailor-made route will be ready for your […]