Chiang Rai
Chiang Rai, the northernmost province of Thailand is about 785 kilometers north of Bangkok. Situated on the Kok River basin, Chiang Rai covers an area of approximately 11,678 square meters with an average elevation of 580 meters above sea level. The province, which is located within the renowned Golden Triangle area where Myanmar, Laos and Thailand converge, is also known as the gateway to Myanmar, Laos and Southern China. Today, Chiang Rai is a traveler paradise endowed with abundant natural tourist attractions and antiquities; the province itself is evidence of past civilization. Attractions range from magnificent mountain scenery, ruins of ancient settlements, historic sites, Buddhist shrines and ethnic villages as the province is also home to several hill tribes who maintain fascinating lifestyles. For those interested in the natural side of Chiang Rai, jungle trekking is recommended along various trails. Chiang Rai which tends to be a little more 'laid back' now competes with Chiang Mai as a tourist attraction and is fast becoming a popular escape for tourists wanting to get away from all the hustle and bustle.
1. Transportation:
1.2. How to get there?
The easiest way to get to Chiang Rai is by taking a direct flight from Bangkok which takes around one hour. There are many domestic flights available at both Don Mueang Airport and Suvarnabhumi Airport.  On the other hands, if you Getting into Chiang Rai from Chiang Mai, the trip can be done in about three hours by car.
1.2. Ways to get around the city:
Chiang Rai is a small, pleasant city to visit. There are numerous modes of transportation available to move around Chiang Rai. Traditional types of vehicles such as tuk-tuks and samlors have given way to modern popular modes of transportation such as taxis, buses, motorcycles, and so on. To move around the city, you can also rent a car or stroll.
Car
Using a private vehicle in Chiang Rai provides greater flexibility and comfort than other modes of transportation. Chiang Rai has many twisty roads because it is located in a more mountainous area than other cities, and other modes of transportation cannot reach many top sites in remote areas.
Samlor and Tuk Tuk
Chiang Rai is well-known for its traditional native modes of transportation, including as tuk-tuks and samlors. A tuk-tuk is a three-wheeled motorized vehicle that is used as a taxi in town, whereas a samlor is a three-wheeled human-powered vehicle. These three-wheeled vehicles are ideal for a quick (20-minute) tour around town.
Bicycle
When you live in a small town, riding a bicycle is an intriguing experience. While cycling, you may take in the fresh air and breath-taking scenery. Along the walk, you can also see the wonderful local wildlife and plants. Cycling is enjoyable for a short period of time, perhaps an hour or two.
Walking
Walking around town after a day of sightseeing is a nice way to unwind. Walking allows you to take in the local nightlife in Chiang Rai at your own pace. You may explore the local markets for souvenirs and street food. Taking photos with the city lit up at night should also be on your list of things to do in Chiang Rai.
2. Best times to visit:
The best time to visit Chiang Rai is from October to February as the weather is much cooler and less humid. Chiang Rai is 1280ft above sea level and surrounded by grassy plains, jungle canopies, and rivers which keep the valley cooler with lower humidity than other places in Thailand. The annual average temperature is 24°C (75°F), but it can go as high as 36°C (97°F) and as low as 10 – 15°C (50 – 59°F) at night in cool season.
WHITE TEMPLE (WAT RONG KHUN)
The White Temple, also known as Wat Rong Khun in Thai, is a stunning example of both contemporary and traditional Thai architecture. Unlike other temples in Thai which are frequently embellished with gold trim, this temple is covers in white color from roof to footer, as well as the surrounding bridges, fences, and statues. Creative Thai artist Chalermchai Kositpipat raised the money to design and construct a contemporary and unconventional temple that doubles as an art show on the site of an old decaying temple. The combination of ancient Buddhist themes with modern inspirations, such as murals of Mickey Mouse, Superman, Kung Fu Panda, and Michael Jackson, all contribute to the fascination and surprise of this well-known tourist destination. A Wolverine hand, aliens, peace signs, firearms, and other cheeky and offbeat innuendos will also be on display for visitors. The White Temple is located 15 minutes outside of Chiang Rai City, in the village of Ban Tha Klang (about 228 kilometers from Chiang Mai). You can reach the temple by taking a songthaew (local pickup taxi) from Chiang Rai's old town for 50 baht per person or by driving yourself.
BLUE TEMPLE (WAT RONG SUEA)
The Blue Temple is perhaps the second most popular tourist destination in Chiang Rai, after the White Temple. The Blue Temple is known in Thai as "Wat Rong Suea Ten", or "Temple of the Dancing Tiger". Another ancient temple once stood here, and tigers are said to have roamed freely over the grounds when it was abandoned nearly a century ago. Together with its calming cerulean color, the Blue Temple is adorned with gleaming gold trim and surrounded by blue and gold statues of magical Buddhist beings and mythological characters. The temple is striking, painted in an eye-catching blue with overlays of gold embellishments. The centerpiece inside the great hall, is a huge statue of a White Buddha in sitting position surrounded by contemporary Buddhist art in a modern style. In comparison to its "older siblings," the White Temple and the Black House, the Blue Temple is a less well-known and less crowded tourist destination. This is changing quickly, so now is a perfect opportunity to take a look around.
THE HILL TRIBE MUSEUM
Hill tribe museum and Education Center The Hilltribe Museum and Education Center is situated on the 3rd floor of the nonprofit Population & Community Development Association (PDA) building. This museum has been open for more than 18 years. Its objective is to build a stronger relationship between Thailand and minority groups and between Thailand and international community for a better understanding of the way of life of people from 6 hill tribes. The displays are underwhelming in their visual presentation, but contain a wealth of information on Thailand's various tribes such as Akha, Lahu, Yao, Karen, Lisu and Hmong and the issues that surround them. A visit begins with a 20-minute slide show on Thailand's hill tribes, followed by self-guided exploration among exhibits that include typical clothing for six major tribes, examples of bamboo usage, folk implements, migration to Southeast Asia, harvest equipment and other anthropological objects.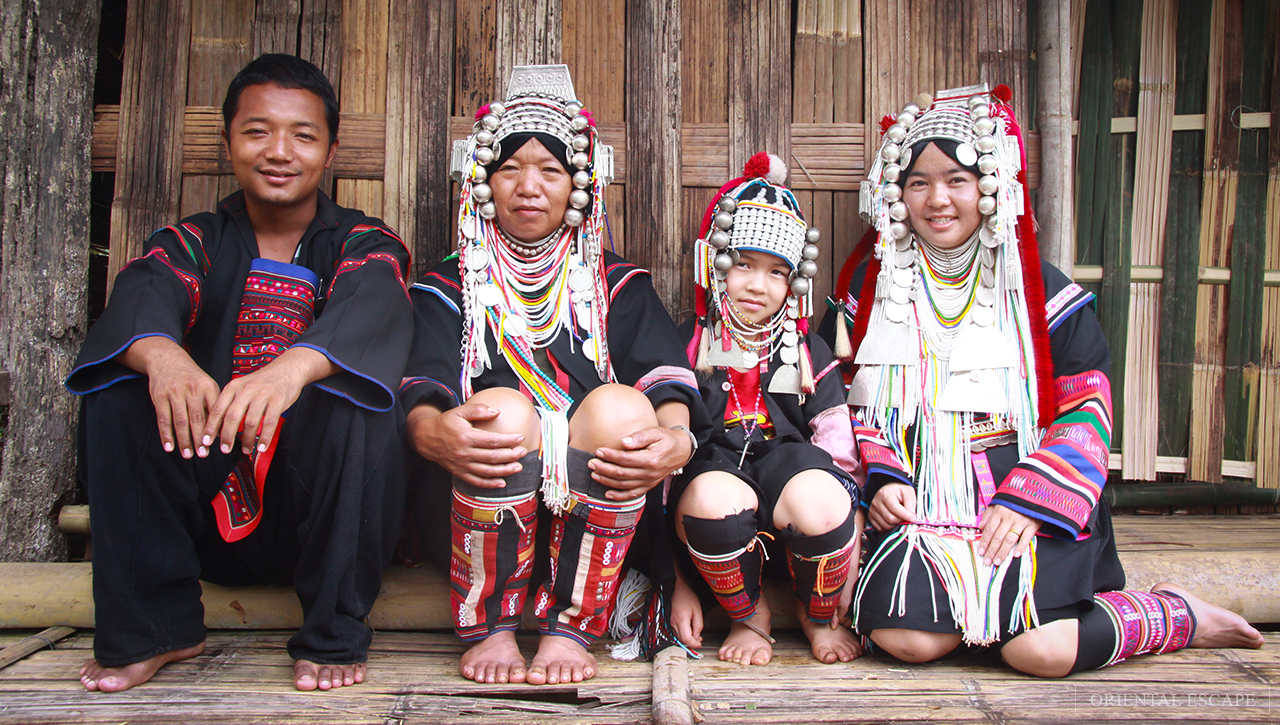 GOLDEN TRIANGLE
The Golden Triangle, also known as Sop Ruak by locals, is the English-language moniker for the hilly, forested territory in northern Thailand that borders Laos and Myanmar. Despite its turbulent history, the region is now a tranquil terrain where you can visit coffee plantations, quaint villages, and slow, meandering rivers, as well as one of Thailand's top elephant sanctuaries.
It is 9 kilometers north of Chiang Saen along the Mekong riverside road. Sop Ruak is the place where Mekong River, the border between Thailand and Laos, meets Ruak River, the border between Thailand and Myanmar. In the past, Golden Triangle was the world's large source of drug trafficking owing to its privileged location attached to many countries. However, it is currently taken good care of and becomes a popular tourist attraction. From the viewpoint, the tourists will find the land that connects the three countries, surrounded by long and calm waterway. To admire the view, tourists can go by boat which takes only 20 minutes. Besides, the tourists can rent the boat from Sop Ruak to Chiang Saen and Chiang Khong for 40 minutes and 1 hour and a half, respectively. There is also a beautiful spot for the tourists to take photo with its spectacular background.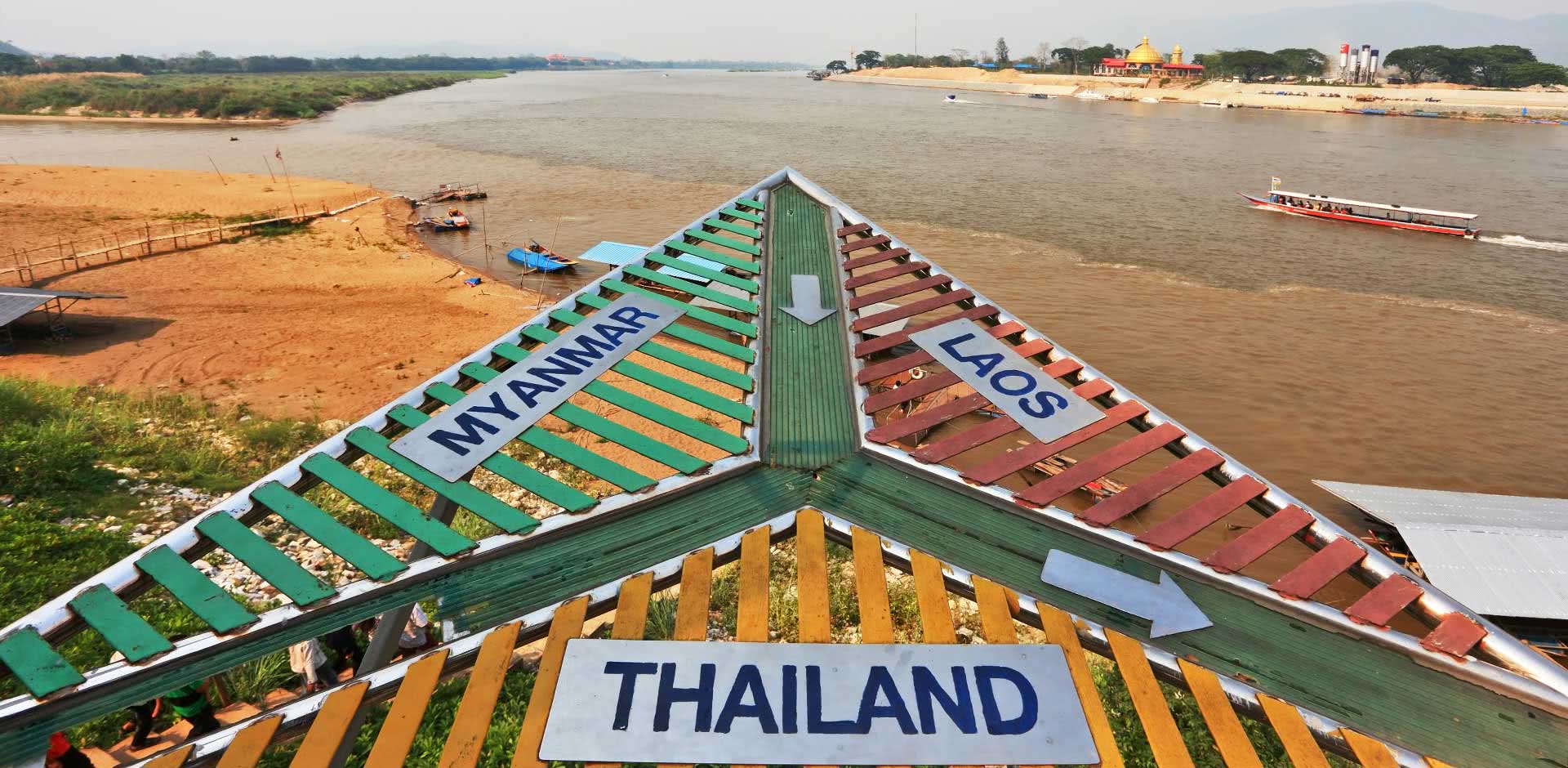 SINGHA PARK 
The Singha Park, formerly known as Boon Rawd Farm, was previously a family-run farm owned by Boon Rawd Brewery. Singha Beverage, a popular Thai beer, is made by the founding family. The Singha Park property used to be where the family farmed barley for their brew. Beginning in 1929, Thailand's first brewery was Singha. The company is presently run by the Bhirom Bhakdi family's third and fourth generations. The term Singha means lion, and the Singha beer emblem is a lion. In Thai and Southeast Asian mythology, the King of the Jungle is a strong beast.
MAE SALONG
Mae Salong is famous for its mountainside tea plantations. Situated in the north-west corner of Chiang Rai province, this area has an interesting history. Following the Chinese Civil War in the 1950s, soldiers from the defeated Kuomintang (KMT) sought refuge in nearby countries including Burma and Thailand.
At this time, the Mae Salong area was renowned for the growing of opium poppies. Many of the Chinese soldiers became involved in the lucrative drug trade. The Thai authorities brokered an agreement with the fighters that led to the soldiers being granted residence rights and tea replacing opium as the main crop. Mae Salong village was renamed Santikhiri, the 'Hill of Peace'. Descendants of the former fighters still live in Santikhiri and the village retains its Chinese identity.
Suggested Itineraries
No tours match your criteria