Chiang Mai
Chiang Mai is the largest city in northern Thailand and the country's third largest metropolis after Bangkok and Nakhon Ratchasima. It's on the Ping River, a significant tributary of the Chao Phraya. It serves as a religious, economic, cultural, educational, and transportation hub for northern Thailand as well as a portion of neighboring Myanmar (Burma). Chiang Mai has the look of a huge village—orderly, clean, traditional, and nearly sprawling—in contrast to the generally densely packed Asian city. The oldest part of town, particularly the 18th-century walled hamlet, is on the river's west bank and features the ruins of numerous 13th- and 14th-century temples. Despite that, Chiang Mai is becoming a thriving tourist and resort destination.
1. Transportation:
1.2. How to get there?
The quickest and and simplest way to get to Chiang Mai is taking a flight. The city owns an international airport so you can fly in directly from anywhere. Domestic flight from Bangkok takes only 1 hour and 15 minutes. On the other hand, you can get to Chiang Mai by bus or by train for cheaper fare yet longer travel time.
1.2. Ways to get around the city:
Songthaews
Songthaews (modified pickup trucks with two benches in the back) are one of the most popular ways of transportation for Chiang Mai residents. The majority of songthaews are red, and are referred to as rot daeng (red vehicle) in Thai. These run in the city center. While some follow predetermined routes, it is more common for a songthaew to operate similarly to a shared cab. Flag one down and, assuming it's heading in the right route, ask for the fare and get on. When you want to take off, simply buzz.
Tuk-tuk
Tuk tuks are one of the most frequent modes of transportation in Chiang Mai; you'll never be without a ride! There will be plenty of tuk tuks waiting around the Tha Pae Gate area and key tourist destinations, and they will frequently beep and slow down while passing by to see if you want a ride. They provide a private door-to-door service around the city.
Motorbike taxi
Motorbike taxis are a terrific option for lone travelers to get about Chiang Mai. As with tuk tuks, always agree on a fare before embarking on a ride. They are a more efficient mode of transportation during rush hour and on congested highways. Motorbike taxis generally congregate on strategic locations and near big sights; you'll recognize them by their bright vests.
Cycling
Cycling is a great method to get about Chiang Mai's Old City. There are numerous bike rental locations, and it is rarely difficult to find a good location to keep a bike outside of prominent sights. Remember to drive on the left side of the road. If possible, obtain a bicycle helmet. A cross-body bag, bumbag, or backpack is preferable than riding with a handbag in the basket because it just takes a second for someone to steal your things.
2. Best times to visit:
Chiang Mai is best visited during the chilly season, which lasts from November to February. Temperatures average 25 degrees Celsius during the day and drop to 13 degrees at night. In the chilly season, the weather is sunny and the skies are clear. These months also have the lowest humidity, therefore rain is unusual. Due to the wonderful weather, this period is the most pleasant and popular with visitors, thus it will be the most crowded. Because of the flood of visitors, this season is also the most expensive.
WAT PHRA THAT DOI SUTHEP
In Chiang Mai, this mountaintop temple is a must-see. The major temple of Wat Doi Suthep houses a venerated seated Buddha and is one of the city's most prominent tourist attractions.. Wat Phra That Doi Suthep is a popular pilgrimage site, particularly during the Buddhist festivals of Makha Bucha and Visakha Bucha (February 13 and May 11, respectively).
This magnificent temple is topped with an exquisite Chedi (Monument) that stands 24 meters (79 feet) tall and is gold plated from top to bottom. On a clear day, the Chedi's golden facade catches the light and shines like a beacon above the city. The temple dates from the 14th century, and the story of its establishment is a classic Thai myth, full of magic and mystery. Generally, only two of the six gates leading to the gallery and the chedis are open. The gallery is adorned with statues of Buddha in the Chiang Mai and Sukhothai styles. The temple itself is ornate, with many representations of the Buddha, detailed dragon statues, and elephant carvings. There is also a small museum on the premises.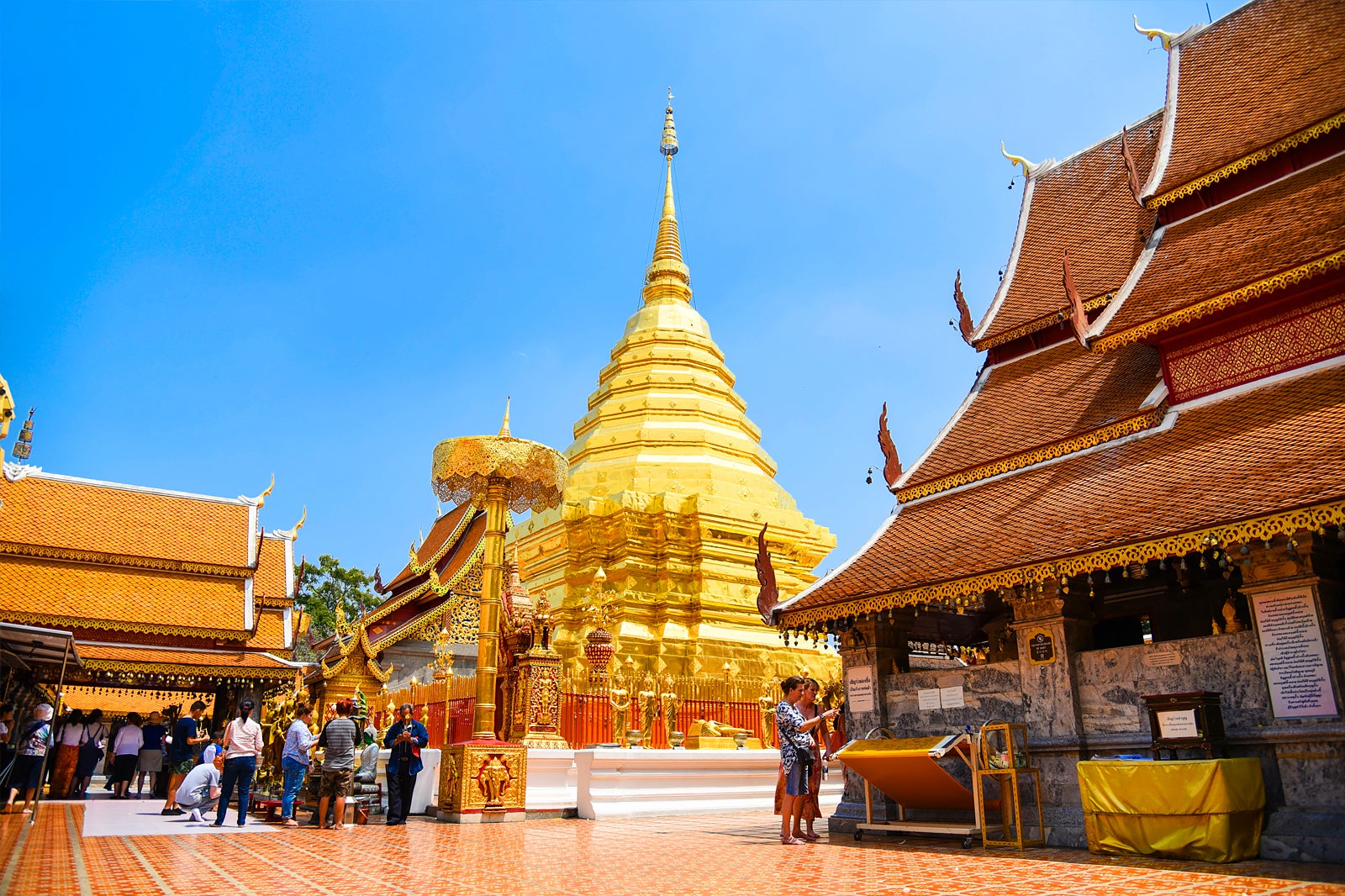 WAT PHRA SINGH
Wat Phra Singh, Chiang Mai's most venerated temple, is dominated by a massive, mosaic-inlaid whăhn (sanctuary). The opulent monastery structures and carefully groomed grounds, peppered with coffee kiosks and massage tents, demonstrate its wealth. Pilgrims come here to revere the famed Buddha image known as Phra Singh (Lion Buddha), which is placed in Wihan Lai Kham, a little chapel immediately south of the chedi (stupa) in the temple grounds' back.
This beautiful idol is claimed to have come from Sri Lanka and was enshrined in 1367. The chapel is equally impressive, with gilded naga (serpent) gables and exquisite laikrahm (gold-pattern stenciling) on the inside.
Despite Phra Singh's high rank, nothing is known about the Phra Singh image, which resembles images from northern Thailand more than Buddha statues from Sri Lanka. To add to the mystery, there are two virtually identical images in Thailand, one at the Bangkok National Museum and one in Nakhon Si Thammarat's Wat Phra Mahathat Woramahawihan. Whatever its origins, the statue has become a focal point for religious ceremonies during the Songkran festival.
WAT CHEDI LUANG
Wat Chedi Luang isn't as big as Wat Phra Singh, but its towering, ruined Lanna-style chedi (built in 1441) is significantly taller, and the extensive courtyard surrounding the stupa is eerily evocative. The legendary Phra Kaew (Emerald Buddha), currently housed in Bangkok's Wat Phra Kaew, was housed in the eastern niche until 1475; nowadays, a jade facsimile may be seen. This was possibly the greatest edifice in ancient Chiang Mai, but it was destroyed by either a 16th-century earthquake or cannon fire during the Burmese conquest of Chiang Mai in 1775. Chedi Luang, like most of Chiang Mai's ancient sites, was in ruins when the city began its contemporary revival, but a restoration project led by UNESCO and the Japanese government in the 1990s stabilized the monument and stopped further deterioration. A revered standing Buddha statue, known as Phra Chao Attarot, is flanked by two disciples in the main whăhn (temple). More chapels and sculptures can be found in teak pavilions towards the compound's back, including a massive reclining Buddha and a magnificent Chinese-influenced seated Buddha scarcely contained by his robes. The daily Monk Chat, held under a tree in the grounds, always draws a large number of curious visitors.
WAT CHIANG MAN
Chiang Mai's earliest temple was built about 1296 by the city's founder, Phaya Mengrai. A stone plaque etched in 1581 in front of the ubosot (ordination hall) has the earliest-known reference to the city's establishment. The main whăhn (sanctuary) also houses the Lanna kingdom's oldest-known Buddha figure, cast in 1465. The city's guardian images are enshrined in a smaller second whăhn, the bas-relief marble Phra Sila Buddha, believed to have been carved in Sri Lanka more than 1000 years ago, and the miniature crystal Phra Sae Tang Khamani Buddha, supposedly constructed for the monarch of Lopburi around AD 200.
The sacred figures are housed inside a beautiful altar resembling a mondp (a Thai adaption of a Hindu shrine) known as a khong phra chao, a distinguishing characteristic of old Lanna temples. A magnificent chedi with an elephant-flanked plaster base and a gilded upper level graces the monastery.
DOI INTHANON NATIONAL PARK
This is Thailand's tallest peak, and the national park that surrounds it contains many of the natural treasures that made the country so appealing in the first place. You can go hiking and hike the mountain, or you can enjoy a more leisurely stroll around the park. Other features include several waterfalls and a hill tribe hamlet, as well as two pagodas built to honor King Bhumibol Adulyadej and Queen Sirikit. You'll need to hire a driver for the day or rent a motorcycle to view the sights on your own because you won't be able to walk through the entire park on foot. However, it is only about a two-hour trip from the city, so if you leave early, you should be fine. you can get in a full and satisfying day on the mountain.
ELEPHANT JUNGLE SANCTUARY
Elephant Jungle Sanctuary Chiang Mai was one of the forerunners of Thailand's new ethical elephant attractions. The sanctuary, which is essentially a retirement home for gentle giants who have worked in the often-unpleasant logging and tourism industries, allows for careful contact between visitors and inhabitants. There are no gimmicks, no circus acts, and no riding, as it can hurt these enormous creatures' surprisingly frail backs.
The sanctuary is a model of responsible tourism, run in collaboration with the adjacent Karen hill tribes and Chiang Mai residents. At the time of writing, the sanctuary was home to around 30 elephants, with many spacious places about 60 kilometers from Chiang Mai where they could roam in peace and comfort.
Suggested Itineraries
No tours match your criteria