Battambang
Battambang is the capital of the Battambang province and Cambodia's second most populous city. Although it receives significantly less visitors than Phnom Penh or Siem Reap, it is a fascinating site with numerous surrounding historic temples, Buddhist shrines, and the unique bamboo train. It combines a modern city atmosphere with small-town hospitality and some well-preserved historic towns to create a unique appeal.
The charming town of Battambang, located just a few hours by bus from Siem Reap, is sometimes ignored by visitors who either bypass it totally or stop for a quick tour. However, if you stay for a few days, you'll quickly learn about the city's hidden attractions. Whether you want to spend time recovering from the debauchery of Siem Reap's Pub Street, drinking Khmer coffee in one of the many cafes dotted around the town center, or you want to explore the historic remains of the Khmer Rouge reign by cycling through the beautiful countryside, Battambang has something to offer for everyone.
1. Transportation:
Although Battambang has a small domestic airport, it's been closed for business for the last 10+ years and doesn't host any commercial airlines. As of 2017, the only ways to get to Battambang are by bus, private car or boat. Bus from Phnom Penh to Battambang take about five hours to reach the city while it takes around three hours from Siem Reap.
Between Battambang and Siem Reap, daily boats conduct the picturesque trek across the Tonle Sap and up the Sangke river, departing at 7:00 a.m. from each port. Traveling by boat provides a unique perspective of Cambodia, as the journey passes through farms, fishing villages, and small towns.
1.2. How to get there?
1.2. Ways to get around the city:
Visitors should take jeeps, boats, or motorbikes to truly appreciate the vibe of Battambang, which provide a view of the serene scenery of this old city. Furthermore, Battambang is known for its home-made taxis. Visitors sit on the back of an improved motorcycle with a recliner and may easily see little villages, meandering canals, or huge gardens along the wayside.
Travelers who visit Battambang should not miss the opportunity to ride a bamboo boat, which is a novel and interesting means of transportation for Cambodians. The "norry" bamboo boats have timber frames, bamboo floors, and a rudimentary motor with wheels.
2. Best times to visit:
The weather of Battambang is divided into two seasons: the dry and the wet. The dry season's warm and dry atmosphere makes it the finest time of year to visit the city. In particular, January is the best time to visit Battambang. Temperatures are often high in a tropical climate with a high quantity of humidity. The city's average temperature changes just significantly. Throughout the year, the city receives very little rain. April, March, and May are the hottest months in the city which t he average annual temperature is usually between 22 and 27.5 ° C.
PHNOM SAMPEAU
The Khmer Rouge utilized Phnom Sampeau as a base of operations throughout their cruel dictatorship. A few mass graves were utilized as killing caverns, and memorials to those who died there currently stand.
Phnom Sampeau is a 100-meter-high mountain in Southwestern Cambodia that rises from the rice paddy fields. It is home to Wat Sampeou, a temple, as well as Pkasla, Lakhaon, and Aksopheak, three natural caverns. Phnom Sampeau was a site used by the Khmer Rouge during their harsh dictatorship, when some areas were used as killing caves, with the skeletons of its victims still visible.
These killing caves were once mass graves, and tributes to those who died there can now be found. A relic from World War II is also buried on the mountain.
WAT EK PHNOM
Wat Ek Phnom, located about 15 kilometers north of urban Battambang, is another set of ruins inspired by the Angkor temples. It is a well-known temple situated adjacent to a huge lake, with a 28-meter-high Buddha statue behind it. There are bridges that cross the river, small and pleasant settlements in the area, and roads that lead to temples.
Wat Ek Phnom, according to researchers, was established during the Bayon Dynasty in the 11th century (the reign of King Sorayak Varman II). Only a few Buddha statues, sculptures, and a destroyed wall remained as a result of looting and conflict. When visiting Cambodia, this is an important location to enable travelers uncover a long-forgotten temple.
For the people of the adjacent village, the temple is also the focal point for holiday celebrations. They dress up for Sunday and celebrate between the old and modern temples, climbing all over the ruins with their families. In addition, it is a renowned tourist attraction for Khmers as well as a fertility pilgrimage site for women.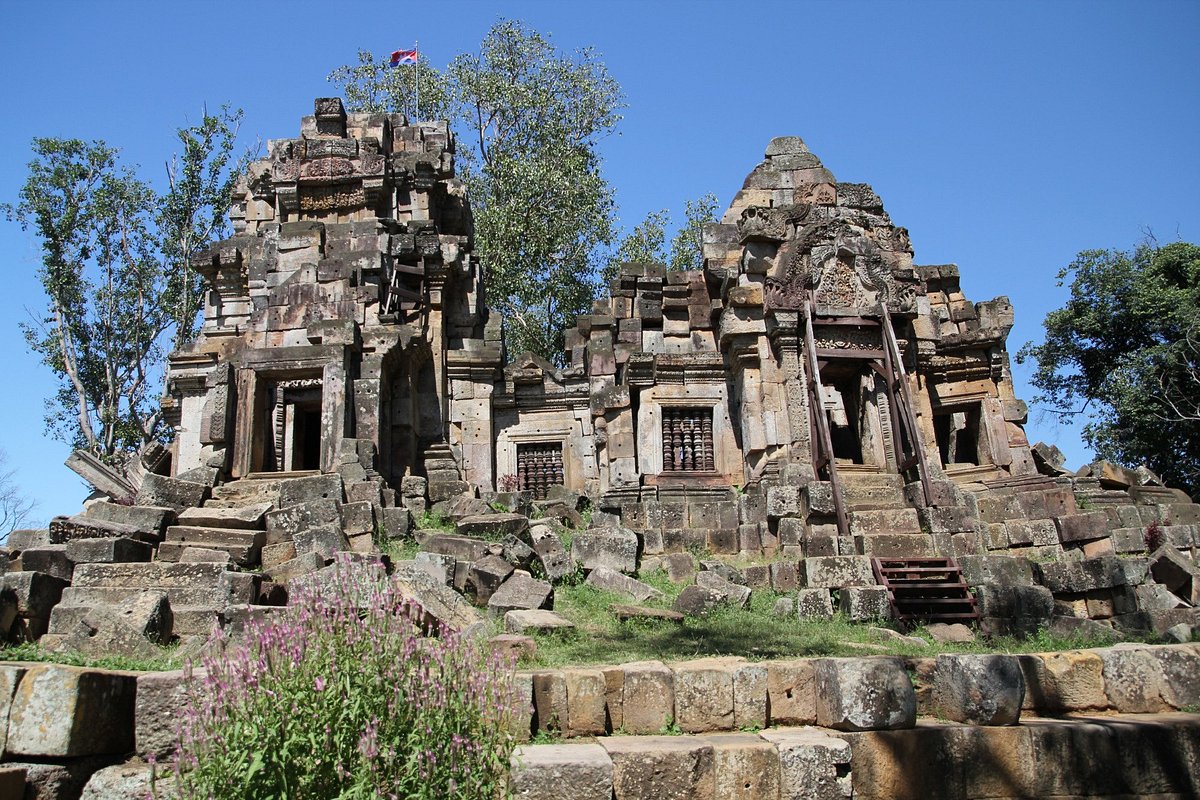 WAT BANAN TEMPLE
The temple appears to have been abandoned for many years from the outside, yet it is actually utilized by native people to worship the Gods and the Buddha. Wat Banan Temple will appear in front of you when you climb to the top of a mountain, surrounded by breathtaking views.
According to certain sources, it is unclear who built the temple or when it was built. Others, on the other hand, think the period covered the mid-eleventh century to the end-twelfth century, and included two reigns of King Ut Tak Yea Tit Tya Varman II (1050 – 1066) and King Jarvarman VII (1066 – 1066). (1181 – 1219).
To get to Wat Banan, you must climb a 400-meter-high mountain with around 300 stairs, but the vista is well worth the effort. From the top, tourists can enjoy breathtaking 360-degree panoramic views of the Sang Ke River, thousands of sugar palm trees, rice fields, and small communities below. Although the most worthwhile is still the beautiful old Wat Banan of the Angkore-era, where the entire temples retain their original construction but, like other Cambodian ruins, have been subjected to extensive looting. Like Angkor Wat, there are five temple structures, with the central one being the largest. The nicest spots on your tour are these majestic towers with the sculptures of the now-headless apsaras on them. Otherwise, the Prassat Banan vineyard, Cambodia's only vineyard, is near to Wat Banan, providing guests with an experience that combines visiting the temple with outside activities such as dropping grapes and producing vine.
Suggested Itineraries
Let's exert your sweat during a…
A Cambodia travel with its incredible…